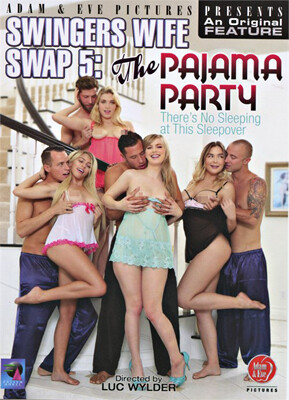 Luc Wylder (director) and Alexandra Silk (producer) are the perfect couple to capture the energy and passion of eight fine-looking folks in this sleepover celebration of friendly lust. Lovely Blair Williams acts as a narrator and guide.
Hosts Zoe Clark and Dylan Snow invite Justin Hunt to join them for some threeway fun. Zoe blows Justin as Dylan eats her pussy. After some acrobatic sex on a stairway, the guys ejaculate on her face. "This is why I love to host swingers parties," Zoe pants.
Blair ties red cuffs on Dolly Leigh's wrists and ankles, with matching ball-gag and blindfold, making her "completely helpless" but also cute. Dolly's pussy is free to grind on Blair's probing tongue before Blair brings out a shocking-pink dildo for deeper penetration.
Blair says she loves watching lover Danny Mountain coach a new girl to sexual abandon. It's the delectable Giselle Palmer who learns her lessons well. Danny spends a lot of time eating her and she screams with joy as his big dick plunges into her pussy.
And then it's orgy time, with four hot young twosomes all going at it at once. Lots of oral sex at first. When the fucking starts, it is in earnest, with continuous moaning from the girls: Giselle and Danny, Zoe and Justin, Blair and Dylan, plus Dolly with Chad Alva. The fluid partnering shows the allure of creative group sex.
Synopsis:
Watch a downright dirty party where swingers bring their most instatiable desires and everyone shares! Experience a mind-blowing 3-way, crazy hot girl on girl sex & an amazing orgy that leaves everybody quivering in ecstasy. Come join the party & feast your eyes on this group sextravaganza!