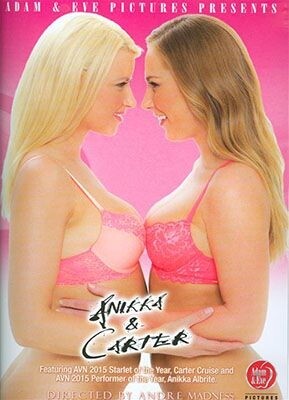 Anikka Albrite, the 2015 XBIZ Performer of the Year, and Carter Cruise, the 2015 XBIZ Starlet of the Year, get together for some really juicy sex. Each one talks to the camera about herself, her fans and relationships and how their life has changed after winning a bunch of awards. They're both natural and charming. They also talk about how they just love girl-girl sex — and then they show us just how much in a steamy sex scene. They get off on eating each other's pussy and sticking slender dildos into each other's butts.
Sasha Heart and Kalina Ryu join them for a steamy four-way. Director Andre Madness shoots it against a plain, all-white background, and it's very pretty. The girls all gang up on Carter — they waste her and she's very vocal about how much she loves it. In the remaining two scenes, Carter does AJ Applegate — also very pretty and sensuous, with AJ making Carter scream with pleasure once more. Then Anikka wraps things up with the equally provocative Mia Malkova in a very hot but very wet shower scene.
Synopsis:
With their beautiful faces, smoking hot bodies, fun personalities and voracious sexual appetites, it's easy to see why Anikka Albrite (2015 AVN Performer of the Year) and Carter Cruise (AVN Starlet of the Year) are the "IT" girls of XXX! Put them together with 4 horny gal pals and get ready for a super sexy lesbian free-for-all!