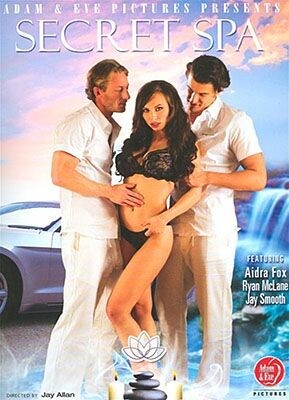 Over two hours of solid acting, storytelling, casting, sex, cinematography and top-notch locations really define this soon to be Adam & Eve classic. With everything you expect from an A&E production, but with a really fresh approach, Secret Spa is definitely made for the modern couple that likes a plot-based adult feature film with terrific, arousal-fueled sexual performances.
Don't be mistaken though. While there is plenty of dialogue, it does not go overboard with it. In other words, there's enough talk to give you a good understanding of the plot, but it's soon followed by lots of really excellent seductions between client and masseuse, leading to hot hot sex.
Chanel Preston in a brief, non-sex role, has made it clear that the spa's rich and famous clientele demand secrecy and alerts her staff that a prying journalist may be on the grounds trying to gather evidence on what the "secret" to the Secret Spa is. The secret is that for the female clients, the men and women of the Secret Spa are there to deliver a truly "happy ending" for them.
Misty Stone's chocolate-skin body looks so alluring as she pleasures herself in the tub before letting Bradley Remington use his fingers as well as his cock to deliver a big O to the gorgeous ebony diva. Aidra Fox needs more than one set of hands, and a cock, to help her relieve the pressure she's been building up between her legs, getting everything she pays for and more as you'll see at the end of the film. Shay Fox requests a hot young stud to massage her big set of tits and Steven Lucas nicely rubs her down and fills her up generously with his package, which Shay just can't get enough of.
In hands down the hottest scene (and one of the more memorable g/g performances), Dillion's husband surprises her with a massage and a whole lot more from Miko Dai. These ladies seriously tear into each, going down on each other multiple times to slurp every drop of wetness coming out of their sweet pink boxes. It's definitely a scene worth watching over and over again. Penny Pax closes things with another solid, heat-fueled scene with her man Chad White who delivers a good pounding the petite performer easily handles to close out a really impressive, smart and sexy title.
Adam & Eve would be wise to really hype this film up as it's a winner all the way. Director Jay Allan directs an impressively smart film where the plot and the sex perfectly complement one another. This is a great example of how the new golden age of pornos should look like. And it would be wise for retailers, especially those catering to couples and non-gonzo fans, to clear some room on shelves for Secret Spa.
Synopsis:
Talk about a serious rubdown, Adam & Eve's Secret Spa is the place to go to relieve all kinds of tension, pressure and sexual frustrations. And they guarantee it. But will a snooping journalist ruin all the fun and let out the secrets of the Secret Spa? Let's seriously hope not.