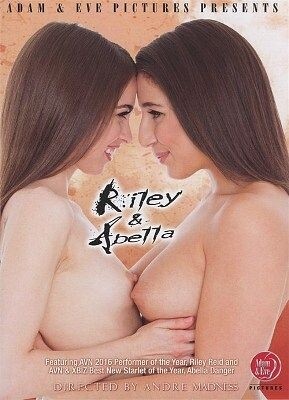 Don't let the title and the tasteful packaging here fool ya. "Riley & Abella" is not a feature but, rather, pure girl/girl gonzo, and it's both a good one for couples, as well as fans of scintillating spinner Riley Reid and the ever-ubiquitous Abella Danger.
Director Andre Madness has brief candid interviews with the ladies before they start munching muff, with all of the scenes excellently shot in the picturesque outdoors, beginning with delightfully thin and wiry Reid getting it on with big-butted (man, what a big butt!) scene-stealer Dani Daniels. Aficionados of both lusty ladies definitely won't wanna miss this animated coupling.
Next, Abella gets down with Keisha Grey, with both ladies not only wildly juicy in physique, but totally ravenous in sexual attitude. Grey has added a few pounds and it suits her beautifully, while Danger has a similarly padded figure.
Then, there are solid sequences between Abella and Riley, as well as a foursome with Reid, Danger, Grey and Daniels. Abella performs like a crazed pitbull, clamping down on those clams like she's never gonna let go. Daniels, as usual, lights up the scene with her vivacious charisma, with nary an ounce of excess zealotry in sight.
"Riley & Abella" is, again, tame enough for that ever-elusive couples crowd (somewhere out there!), but also hardcore-perv viewing in that it's a joy to imbibe these four tasty tarts, absorbing their erotic intensity and carnal sincerity.
Synopsis:
See the year's biggest stars together for the first time! Riley Reid and Abella Danger team up for a tongue-wagging, face-sitting, ass-twerking and pussy-motorboating romp that will knock your socks (and pants) off! Then Dani Daniels and Keisha Grey join in for a toy-filled foursome that's sure to earn all of these babes another award!