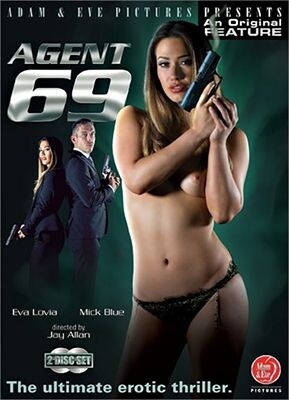 Adam & Eve serves up another amazing feature, this time led by the gorgeous (and especially talented) Eva Lovia. In "Agent 69," Lovia plays the titular spy, who must team up with Agent Kessler (Mick Blue) to defeat Ozone, the seductively charming hacker played by Elsa Jean.
Keeping up with the theme, the intro scene features some truly spy-ish music, as well as sexy glam shots of Eva brandishing a gun. Eva gets briefed on the mission details while on her way to the airport. After getting all the specs, she meets up with Kessler at his swanky pad that could easily be the setting of a mainstream spy movie.
It doesn't take long for Eva and Mick to get down and dirty. They share mission details over a glass of wine, and soon enough Eva's asking to see the rest of the house. Blue leads her straight to the bedroom. Eva really takes charge of the scene — Mick gawks at her beauty, inching forward to meet her, but Eva pushes him back against the pillows. She slobs on his dick, then he eats her out. The duo truly interact like long-time partners (agent partners of course) … there's even some giggling during the sex! Mick fucks her furiously and passionately, then cums all over her chest and mouth. The scene ends with the pair cuddled up in bed.
Up next, Eva is matched with Alex Harper, who plays an agent also working on "The Ozone" case. After revealing all the information they know, the girls get saucy in the living room. "I'm jealous of Kessler getting you all to himself," Alex jokes before kissing Eva. Fire crackles in the background of their sex romp, and really sets the mood for the rest of the scene. They kiss softly, sensually … and once again, the ladies giggle while fucking. Eva proves to be a great pussy eater, because Alex will not stop moaning or grinding her vadge on Eva's tongue. Alex grips Eva's arms while she cums. Just like in the previous scene, it ends with the girls cuddling on the couch. (Really, all that's missing in this scene is a big, white fur rug!)
Before the third sex scene, Eva reveals to headquarters that Alex knows one of Ozone's confidants named Foxtail. After fucking Alex senseless, Eva leaves to continue on with the mission. Holding a large assault rifle in her arms, Eva pings headquarters to let her know she has eyes on Foxtail … who's played by the irresistible Honey Gold!
Honey is a real standout in this feature. I've always been a fan of villains, and she just rocks the fucking look. She looks bold, badass and absolutely bitchin'. Mick follows her all the way back home to Chinatown in Los Angeles. After some sweet camera angles and shots of the city, we get back to the story. Honey ends up inviting Mick over for drinks at her place. "Do you always invite strangers to your loft?" Mick asks. "Well, I know who you are, Agent Kessler," Gold says. Welp! Gig's up. After that reveal, Honey excuses herself for a shower, which gives Mick enough time to peak into her laptop. (In the scene, Blue dons some really geeky nerdy "spy" glasses, but he looks cute in them!)
Once Honey comes back from her shower, and Mick's all done hacking the computer, the duo have some insanely hot sex. Honey is a strong performer, and Mick plows her well. They move their bodies together in unison. "I'm gonna cum! I'm gonna cum!" Honey practically squeals as Mick takes her in spoon position. He cums on her chest, and then leaves Honey smiling.
The last scene sees Honey with, none other than hacker Elsa Jean! I won't spoil what happens plot-wise, but … the sex is fucking amazing! The action starts in the back of a limo, with lots of kissing and fondling, and then ends up in the backroom of a club. Elsa is stellar as ever, riding Honey's face and then flipping so she can taste Honey. They fingerfuck, 69 and take turns making each other cum. "That was amazing," Elsa says post-sex in a dreamy haze. Honey grins in reply. The finale of this sex scene sees the return of cuddling, with both girls' arms draped around one another. Cute!
All in all, "Agent 69" is a cute feature that brings back some heavy nostalgia. If you're a fan of "Bond" or just spy movies in general, you will not be disappointed. Eva and Mick are great leads, while Honey and Elsa are the perfect villainous vixens.
Synopsis:
Beautiful secret agent Eva Lovia is smart and sexy, but when a gorgeous hacker, Ozone (Elsa Jean), breaks into government computers to steal vital secret files, she throws caution to the wind and hooks up with agent Kessler (Mick Blue). With their skills and cunning charms, the couple must come together to stop Ozone and her tempting associate before the stolen files fall into enemy hands!