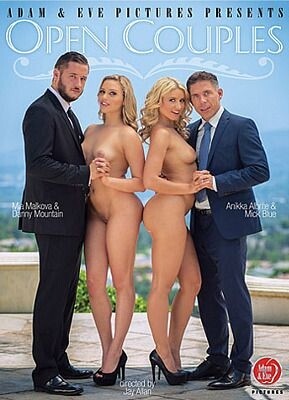 There are only four people in this "movie about real-life couples in porn," but what a cast! Perennial elite performers Anikka Albrite and hubby Mick Blue join forces with hard-working spouses Mia Malkova and Danny Mountain. It's the "first ever swinging couples movie" for both pairs. The breakdown: solo by Anikka, then Anikka and Mick, then Anikka and Mia, then Mia and Danny, and finally, all four together. The solo is pretty and erotic — Anikka's a real pro. When she gets together with Mick the chemistry is fantastic.
In the eye-candy girl-girl, Anikka is unusually tongue-savvy and Mia moans a lot. Mia and Danny are a bit rougher than their co-couple, not as romantic but still hot. They have great fun fucking.
When it's group time —which fans have surely been waiting for — the sharing comes down to the ladies bumping butts and then going down on their own husband. Neither man touches the other's wife until the last five minutes, when Mick fucks Mia and Danny does Anikka. Until that point it's side by side. Each guy comes in the other wife's mouth and the girls do a nice cum swap. Lots of work, imagination and love have gone into the creation of this event.
Synopsis:
Light up your screen with the natural chemistry and intense passion that only real-life couples can provide. 5 sex scenes, plus 1 bonus scene. 141 minutes, plus 70 bonus minutes.