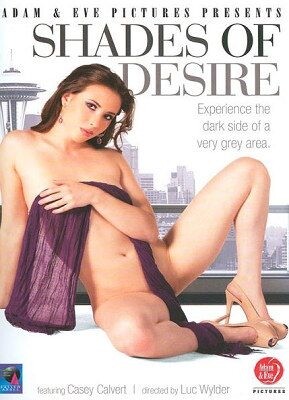 While reviewing their latest book find, entitled "Shades of Desire," six female members of a private book club each verbally relate to the others their own separate fantasies which the kinky book seems to have triggered, while we get to actually WATCH those fantasies unfold. And while this Adam & Eve feature covers a wide array of niches — including MILFs (Veronica Avluv), Asians (Cindy Starfall), blacks (Chanel Heart), blondes (Scarlet Red), girl-girl (Chanel and Scarlet), BDSM (Casey Calvert's scene), and even heavier women (Karen Fisher) — and it's relatively tame approach seems well suited for couples, your more graphically demanding audiences will be rewarded with the higher-energy scenes from Starfall, Calvert, and Avluv, with the latter ever-nasty anal queen providing a climactic double penetration.
Asian hottie Starfall does, indeed, provide a great opening, in more ways than one, with her fantasy about making it with an older dude, i.e., Evan Stone. Cute and horny Starfall simply wanders into a men's restroom while Stone is washing his hands, letting him — BANG! — immediately have his wanton way with her. Starfall is an excellent cocksucker, totally gagging on manmeat, while her juicy little spinner's body is perfectly flexible for various whackable positions, including standing doggie. She even squirts buckets for the camera while sitting on a toilet seat and blowing Stone's bone, as well as after he pops all over her ever-grinning gob.
It's always a pleasure viewing Casey Calvert in action, even in this relatively low-key BDSM outing with Tyler Nixon, who starts off lightly spanking Calvert's tasty butt cheeks with his hand, then with a few belts, in a moodily lit basement (it's still a set, though), before serving her some pork sausage, with the best position being cowgirl, as Calvert's sweet, fair-skinned ass muffins hornily ripple, while standing doggie isn't too bad, either. Not surprising that Adam & Eve put this ever-delectable beauty on the DVD box cover of "Shades."
But it's particularly a treat (as always!) seeing Veronica Avluv go bonkers — and get righteously DP'd — in her own fantasy, unfolding in a men's locker room. Avluv is in her early forties, looks great, and is a MUCH better performer than most of your younger ladies out there. It's the simple fucking (and sucking!) truth. Director Luc Wylder was shrewd in making this molten scene his movie's finale. It's absolutely a scorcher, with plenty of great positions, as Brad Remington and Richie Black each take a crack at Avluv's cunt and anus, with this first-class piece of ass superbly deepthroating each overly coiffured dufus throughout. There's no bullshit with super whore Veronica, who not only squirts while Black is giving it to her doggie style, but even finds it a slutty challenge to maniacally stroke 'n' suck Black's boner back to steel-hard status after he loses a bit of altitude, suck-cessfully getting him to pop right upon her gluttonous tongue, with Remington following suit moments later. Fantastic tramp!
While relatively weaker, the scene with Karen Fisher and the dyke-to-dyke tryst between Chanel Heart and Scarlet Red do have some arousing moments. Fisher has a great pair of big boobies and knows how to suck cock. The problem is that her fantasy sequence with Richie Calhoun takes place in a (secluded) bar, with a barstool hardly being the best piece of furniture to allow our players to really let loose. And while the cunt-to-cunt episode with Scarlet and Chanel highlights two extremely fuckable young ladies (especially the amazingly cute and humpable Scarlet Red), the bitches rely too much on toys as crutches rather than exercising good old-fashioned mouth-to-twat sucking. More specifically, while Scarlet does her fair amount of pussy eating (but not enough!), Chanel barely touches the surface, literally and figuratively. Still, these two scenes are warm enough for couples, if not your more hardcore viewers.
All in all, "Shades of Desire" is a strong title, with not a bad scene in its lot of five — but it's the episodes featuring Cindy Starfall, Casey Calvert, and (the always in-and-outstanding!) Veronica Avluv that'll ultimately get you off.
Synopsis:
This ain't your grandma's bookclub! Mega MILF, Veronica Avluv, hosts the hottest book club in town, so when it's time to discuss the new erotic novel 'Shades of Desire', she can't wait to hear how it personally inspired her horny friends. From playful spanking in a dungeon room, to a steamy sex club that offers Sybian rides instead of mechanical bulls, to taking on extra large toys, or being stuffed by two lovers at once, these scholars sensuality hold nothing back.