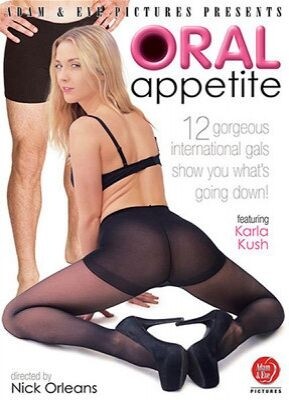 Call it the Dirty Dozen or the Twelve Day of Blowjobs. "Oral Appetite" is a diverse collection of oral-themed scenes that vary greatly in terms of heat and camera angles.
Most of the scenes begin with a little tease sequence and even some fetish play — the panty hose fetish gets lots of love here from director Nick Orleans and that's a good thing.
Karla Kush lands the box cover for good reason. Not only is she stunning with long blonde hair and blue eyes, she's also a naughty, energetic performer who is the only girl of the 12 who slips the cock into her pussy for a quickie. Was it planned? We don't think so and that makes it all the more hot.
There's plenty of grinding and dry humping with clothed females and naked males, some POV angles and even decent cum play in a few of the scenes.
Other notable performances include Marie McCray looking sultry and mysterious in a hat while she gets a lucky dude off, and Selma Sins doing her best to deep-throat her guy. Jay Taylor wears glasses during her face-fuck and gets extra points for it.
It's far from the finest oral title we've seen, but there's plenty enough here in several of the scenes for your stroking needs.
Synopsis:
12 gorgeous international gals show you what's going down! These 12 BJ-loving babes are ready to get their fill of fellatio! Hungry for hard-ons and eager to please, these gals are dressed to impress and on their knees!