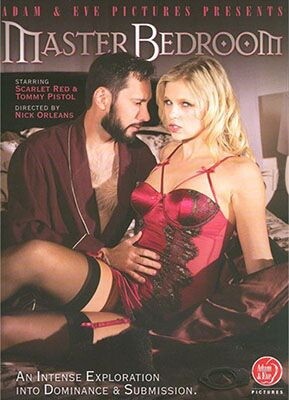 Call it S&M lite. I mean, REALLY lite. That is, while this Adam & Eve feature tries to make it seem as if it offers some heavy-duty kinky sex, sorry to disappoint but, well, there ain't any of that especially naughty stuff. HOWEVER… Despite its, ahem, shortcomings, "Master Bedroom" does include hot moments from its star, Scarlet Red, as well some smoking supporting bits from Krissy Lynn and Adriana Chechik.
After being married (on-screen) for seven years, as well as having three kids (who are, obviously, never seen), Scarlet Red and Tommy Pistol are not only looking for a bigger house but also realize that they need to spice up their love life, which Red slowly facilitates by having the couple edge their way into more fetishy humping. Scarlet, actually, is the best blowjob artiste in the entire movie, really sucking long, wet and deep, while her awesome body is always looking and working great. And the final scene — which explains the movie's title, and wherein Scarlet is all decked out in especially/relatively kinky clothing — is fairly hot, with Red all tied up and letting Pistol have his (if not too, too dominant) way with her.
During the course of "Master Bedroom," we also have a good fuck scene with Krissy Lynn getting it from some hairy male slave, and, in a flashback orgy scene, Adriana Chechik herself getting boisterously banged by some bespectacled male slave type. We especially like it when both Lynn and Chechik get their fine, billowing ass cheeks fucked from behind, though it is strange not seeing Chechik take it up the bum. We also dig it when Lynn demands — even after her boy has really been pumping hard and long in the doggie position — that the fucking stop and her slave boy immediately eat her cunt. Now that IS sizzling stuff, particularly the way Lynn so passionately expresses her whorish, seemingly impromptu demands.
But "Master Bedroom," while, on the whole, far from volcanic or even extremely hot, is a good title for that couple's crowd (out there, somewhere, be they ever so elusive), and does include good acting from Scarlet Red and Tommy Pistol, as well as arousing sex from Red, Lynn and Chechik. The problem is that too MUCH time is spent on the plot and not enough on the porking. Also, there are too many peripheral, unidentified, underused porn starlets here — not Lynn and Chechik who, again, do fine work, as X-pected. That is, these supporting fuckholes are not only improperly credited (who the hell is whom?), but some of them ONLY do blowjobs, and when the more 'adventurous' of these 'mysterious' starlets are actually getting their cunts slammed, our director's poorly placed camera doesn't correctly/fully/satisfactorily capture their fuckable little bodies at work.
Synopsis:
After years of marriage and kids, Scarlet Red and Tommy Pistol look to reignite the passion they once had on their honeymoon, but everyday life keeps getting in the way. That all changes, when they are introduced to the world of sensual submission, domination and kinky sex play. Their vanilla life takes an exciting turn as they go deeper and deeper into their fantasies and Scarlet succumbs to Tommy's decadent whims in this torrid tale of love, lust and total surrender.