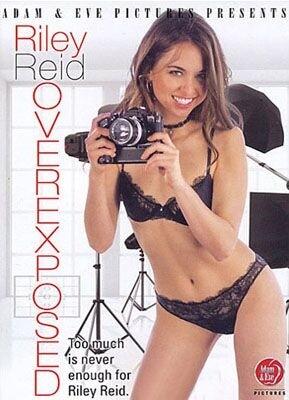 If you're a hot-looking 25-year-old female fashion photographer in L.A., and the magazine for which you're working is going down the tubes, and you may get laid off and, quite possibly, lose your way-upscale apartment… whaddya do? You whore yourself out. And you 'do it' with not only your sexy female boss, but hunky male models, as well as potential advertisers; all in order to save your own tight sweet ass — and your absurdly priced Downtown L.A. digs. That's precisely what Riley Reid's slutty lil' character does in this Adam & Eve feature, which fans of the Floridian tart will surely enjoy.
The film effectively builds to its horny finale, i.e., a potent threesome 'tween Riley and two studs, both of whom filthily fill her deep mouth and almost web-like cunt (a compliment!) quite well. But first… horny Riley sucks — and is sucked by! — her gal-pal, blonde babe Charlotte Stokely, who, apparently, only does bondage and twat-to-twat scenes these days. Pity. Next, desperate Riley slurps down — and is equally slurped up by — her highly slammable boss, played by bespectacled/lush-assed/beautifully-titted Jenna Sativa, whom I wish also sucked/fucked men but, alas, like Stokely, only feeds on fish. Another pity.
Then, after gladly allowing pretty boy/beefcake model Chad White to bang her brains out (finally! — a prick-to-chick scene), cute 'n' clean, but similarly divisive 'n' dirty Riley invites two ad execs (Ryan McLane and Ryan Ryder) to her pad to seal a deal (more like sloppily invade her cake hole and vadge) involving big-buck advertisements in her equally whorish boss' failing fashion rag. Riley chokes oh so well on their pricks, as well as lets the lads fiercely penis-probe her pudenda. It's good, nasty energy. Another pity, however, in that Reid doesn't do anal — yet.
While I found the plot perhaps a bit undercooked, and also equipped with merely three lassies (albeit, great-looking ones!), "Riley Reid: Overexposed" is, still, beautifully shot, with the focus quite smartly/understandably on wiry, all-natural cutie Ms. Reid, making this title a great one for both couples and Riley-philes alike.
Synopsis:
Riley Reid stars as an ambitous young woman climbing the ladder of success. While satisfying her demanding boss Jenna Sativa she pulls double-duty to make sure Ryan McLane and Ryan Ryder sign a big contract. And Riley parties even harder after hours with her friends!