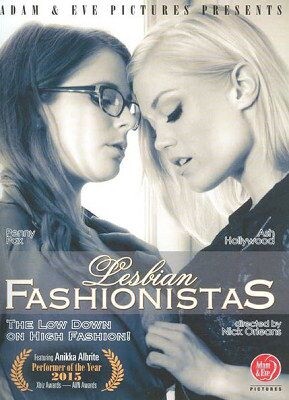 The always-welcome Penny Pax plays an up-and-(soon-to-be-)cumming clothes designer, who both witnesses and ultimately succumbs to the dyke side of the fashion world in this, for the most part, arousing Adam & Eve girl-girl feature.
Getting an invitation to join the creative forces of a trendy downtown LA design company pretentiously called "Nox Aeterna Femina" — and run by the incredibly sexy (and ever-seductive!) Ash Hollywood — Penny initially gets an eyeful, indeed, on her first day on the job. Excellent at playing the shy/innocent type, Pax, that is, sees two of Ash's employees, played by Sasha Knox and Nickey Huntsman, getting it on right there and then on the design-room floor during regular working hours. Sasha looks and Nickey has a positively killer body, well-suited for all kinds of sucking and slurping, which, sure enough, ensue, after which Nickey gets it hard with a strap-on. Such relatively extreme lesbianism is all too much for Penny, who soon leaves the company — but, fear not, as she eventually returns for a sizzling tryst with Ash.
Actually, the other three girl-girl sex sequences which follow are even more satisfying than the Knox/Huntsman icebreaker. For one, there's a shadowy, moody, totally horny interlude with Sasha dominantly sucking Selma Sins' big, juicy slit silly. (We get only glimpses of Sins' face, so I could be wrong, and it may very well be Edyn Blair, who looks slightly similar; so much for moody lighting...) Next, Penny's first all-out lesbo experience (in the storyline) takes place with her friendly roommate, played with true horniness by the ultra-sexy Anikka Albrite, with both girls eating pussy quite well.
But it's the final clam-to-clam scene between our main stars Pax and Hollywood which makes it all worth the wait. Now fully tapped into her dyke side, Penny returns to Ash's all-out lipstick-lesbo company, eventually really burying her face in Hollywood's honey hole, with Ash more than gladly returning the fornicating favor. And it's great seeing both Pax and Hollywood each service the other's bent-over, luscious ass. Penny and Ash definitely have unique looks, with an almost sort of 1950's appeal, which lend themselves perfectly to the atmosphere of this, basically, wannabe period-piece set in modern times.
Although the plot is extraordinarily thin for a so-called feature and there are a pair of annoying tease sequences with Penny (annoying in that they don't follow through, there and then, on the lapping and licking), director Nick Orleans' movie has highly attractive young women (especially Pax and Hollywood) sincerely digging their twat-to-twat sessions; crisp and clear videography; alluring lingerie; and an effective sort of jazzy score, making "Lesbian Fashionistas" excellent couples porn fare.
Synopsis:
Aspiring designer, Penny Pax, gets sucked into the torrid world of high fashion and femme fatales. Naive and innocent, her first break into the working world is filled with visions of lace-clad legs, supple breasts and wet pussies that awaken her desire for lesbian love. Will sweet Penny hold off temptation? Or will she give in to her lust and dive in... face first!