TS Seduction 10: Cathartic Carnage
Kink.com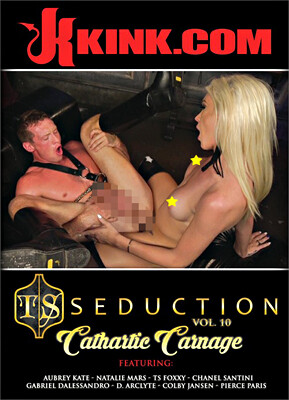 Natalie Mars does her first scene as a dom and her first topping a guy. Gabriel Dalessandro is the happy bottom. She has him confined in a box. "I'll be fucking him later." She spanks him with a riding crop, grinds her crotch on his face, pinches his nipples, squeezes his balls and strokes his hard cock while he sucks hers, then fucks his ass.
"A Tale of Dark Depravity" with TS Foxxy and D. Arclyte starts with a tongue-in-cheek silent movie look before getting down to business. D. can't wait to suck on Foxxy's "something special." He says he wants "your cock deep in my ass." He jerks off and she feeds him his cum.
Glamorous Chanel Santini, 2018 XBIZ Trans Performer of the Year, gets to dom beefy Colby Jansen, a self-styled "alpha male" submissive. As a no-nonsense nurse, Chanel has an old-time Hollywood look. Colby eagerly sucks her dick and she returns the favor. Then she fucks his ass as he moans loudly. His verdict: "She's perfect."
Aubrey Kate doms chain-wearing priest Pierce Paris, an "anal slut" and masochist. She is generally very mean to him, which he loves. She makes him suck her cock and lick her butthole. She gets her dick hard enough to fuck his ass — not really very hard, but it makes him shoot all over himself.
Synopsis:
TS Superstar Natalie Mars appears in her first topping scene! Not only does she top him, she tops you along with him. You remain right by her side during the entire journey. Good luck trying to hold out until the end.

D. Arclyte worships TS Foxxy from head to toe, kissing and suckling her whole body. He moves up to her rock solid dick then licks her ass until spit is running down her legs. Foxxy rewards D by putting him on his knees and fucking him. She pounds his hungry ass as he begs for more. Then flips him onto his back to hammer him furiously.

Muscle stud Colby Jansen has trouble reaching orgasm so he visits sexy pin-up nurse Chanel Santini for help. She pulls her latex panties to the side setting her big beautiful dick free and Colby drops to his knees as he starts sucking, choking and gagging on it with delight.

Somewhere hidden in a dark and evil church Sister Aubrey Kate grabs Father Pierce Paris by the harness and yanks him close. She tells him she knows al the naughty things he's been doing and now it's time for him to repent for his sins!