KinkMen Vol. 1: Superhero Edition
Kink.com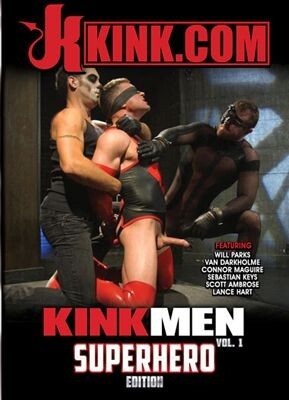 Villainously kinky Van Darkholme and his lackies use whips, ropes, edging and the Orgazmatron to bring down three sexually charged superheroes. The humorous undercurrent doesn't detract from the hurts-so-good sexplay.
Will Parks has the wholesome good looks, square jaw and sculpted body to pull off a skintight superhero outfit without looking entirely ridiculous (he looks pretty great in his civilian togs, too). The hapless hero is captured and forced to endure a variety of edging toys that bring him right to the brink, as well as being tied up and suspended and then ravished by a piston-fucking machine until he finally blasts out a well-earned load. Van Darkholme, handsome as ever, is focused and confident and controls every step of the process.
Connor Maguire is another wholesome, handsome dude with a playful demeanor. He turns the tables on Darkholme and Sebastian Keys as they attempt to lure him into a trap, but the villainous kinkmeisters have more tricks up their sleeve. Some of Kink.com's most eye-popping toys are employed here to edge poor Maguire's beautiful boner right to the brink. He's tied up as Darkholme and Keys control when and where he's allowed to blow his load, and what happens afterward.
Elsewhere, musclebod Lance Hart tussles with the Sado-Spectre (excellent name for a villain), played by Scott Ambrose, burly and scruffily handsome. He smoothly dominates Hart, flogging and binding him, teasing his body with electro-stim and more. Forceful, aggressive oral play leads to an aggressive deep-plunge fuck, by which point Hart is virtual putty in his hands.
It's a pleasure to have kink and bondage play enacted with a sense of adventure and good humor. The visual and sound effects, costuming, props and toys actually work to establish mood and tension. Veteran BDSM director Darkholme strikes the ideal balance of humor and kinky sexplay.
Side note: We have to find a way to get the Orgazmatron into the forthcoming "Justice League" or "Avengers" superhero bigscreen epics.
Synopsis:
The Moral Keeper, known to his friends as Will Parks, is another hero on The Evil Edgemaster's hit list. After learning his secret identity The Edgemaster captures Will and takes him to his demented spaceship. The Edgemaster peels back Will's uniform to reveal his huge muscles and hard cock then brings him to the point of cumming only to deny him. Leather clad, Will is tied with his arms up and flogged on his chest, ass, and cock. The Edgemaster takes the fucksall to him and nearly milks a load out of the hero from the intense fucking. Will has to endure another machine before he cums and is made to squat over it while it fucks his ass. The superhero is reduced to begging as he finally gets a load stroked out of him.
The Evil Edgemaster and his sidekick, No Mercy, capture Connor and take him back to their evil lair. To their surprise, Connor wanted to be captured the whole time, and quickly turns into The Kink Killer. Quickly the alarm is raised and The Orgazmatron is fired up as the beam of arousal subdues the superhero. Kink Killer's hands are chained above his head while his cock is edged again and again. But his torment isn't over, the Edgemaster plays with his cock as No Mercy eats his hairy hole. After blowing his superhero cum all over No Mercy's face, the defeated man endures post-orgasmic torment.
Defeated by The Orgazmatron, our hero Kink Avenger is dragged off to the evil Sado-Spectre's secret lair. The bound superhero endures electric punches to the torso and a cruel edging, before getting a face full of villainous cum. His torment continues as Sado-Spectre administers a merciless flogging and ramming his hard cock down the Avenger's throat. Barely standing, the defeated hero is bent over for a hard pounding, before he's made to shoot his superhero cum all over the floor.