Whipped Ass 21: Masochistic MILFs
Kink.com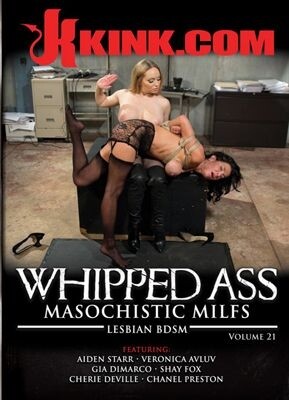 From Kink.com, this trio of BDSM/MILF tales is absolutely arousing, in that all of the submissive lasses seem totally into their punishment — and sucking pussy — and getting fucked in the twat and/or ass … especially uber slut Veronica Avluv!
We start off at an underground "agency" of sorts, and bitter divorcee Shay Fox hooking up with an unorthodox "therapist" to rid the former of all sexual memories of cock and, via heavy duty spanking and petting, ultimately transform her into a "gold star lesbian." First, DiMarco forces Shay, like droogie Alex in Burgess' "A Clockwork Orange," to watch movies, but these aren't ultra-violence-laden flicks, rather they're lez-riddled video ditties. And while Shay's hands are bound behind her (in an obviously uncomfortable chair), Gia finger-fucks the squirmin' wench, puts nipple clamps on her ample boobs, shocks her thighs and breasts with some kinda electro-zappin' wand, and puts a vibe up Fox-twat. Then, after we shift to a dungeon setting, a shackled Shay gets her juicy ass flogged, before she's forced to suck on DiMarco's fine tits and, soon thereafter, bent-over cunt and anus. "You're gonna make me come like this, understand?" Gia commands Shay, "or I'll have to punish you more." A highlight has Shay gagged, on her back, with her wrists tied to her ankles, while Gia fucks her succulent vadge with a strap-on before she feasts on Fox hole and drives her nuts with a vibe. Whew!
Next, at a Halloween costume party in a small dance club, the vamp-like Chanel Preston subtly coerces (if that's possible) the luscious Cherie DeVille, dressed like an innocent cheerleader, to stay in the empty atmospheric joint, during which time she spanks DeVille's tasty rump and makes her eat pussy and ass, while Chanel is also whipping her ass, before Preston ultimately hammers, via strap-on, Cherie's vadge and then her anus, with DeVille's greasy, bent-over butt cheeks being a vision to behold. We get gapes, too. And like DeVille, Preston looks terrif. In the end, Chanel pinches the hell out of the howling DeVille's nipples, before landing a much-wanted kiss on Cherie's gob — and a hard slap in her puss. Ha!
To me, however, the movie's true climax has Aiden Starr finding her new girl-toy in the form of Veronica Avluv, whom Starr has recently kidnapped in a supermarket parking lot, brought to her dungeon and forced to embrace her inner slut after, that is, Avluv is spanked, has her nipples yanked, her cunt rubbed raw with Starr's high heel shoe, is made to eat Starr's starfish and tuna, has her cunt vibrated to screaming ecstasy and finally gets her anus and twat properly probed via strap-on dildo, while ultimately having to clean her own snapper and crapper juices from said faux-cock. Two showstopping moments have Starr furiously vibing the bound Avluv's twat, with tons of squirt blasting outta the slave's slit; and Starr's meaty butt bent over, while Avluv is forced to suck Aiden's tasty cunt and shithole. And, as you would expect, Avluv is great at eating female holes, really goin' deep. Additionally, you can tell that, as she's going totally bonkers, Avluv is not faking an orgasm. Love the hussy!
Yep, this 21st volume of "Whipped Ass" a la MILFs is abso-fucking-lutely rockin', with not a bad scene in the house … or should I say 'dungeon'? But now I'd like to see Veronica Avluv herself in the dom position, seeing as this scrumptious veteran whore is such a degenerate, with a necessarily lively imagination for a true cunt-rol freak.
Synopsis:
Welcome Super MILF Shay Fox. Shay is looking to erase 15 years of a failing marriage from her head by becoming a 'Gold Star Lesbian.' With the unconventional help of Gia DiMarco, Shay is made into a ravenous, pussy licking, strap-on fucking, ass licking, lesbian punishment slut!
Chanel Preston seduces cheerleader Cherie DeVille at an underground Halloween party. She dominates her with spanking, finger banging, pussy licking, bondage, dick on a stick, flogging, caning, and pussy and anal strap-on fucking!
Goddess Aiden Starr torments and pleasures ravenous MILF Veronica Avluv to exhaustion. She starts with nipple clamps and then moves on to OTK spanking and intense anal strap-on fucking that makes Veronica cum all over the room!