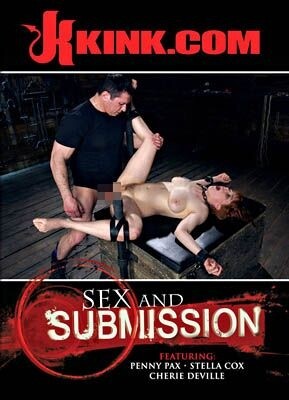 Three major porn stars submit to BDSM and come out smiling. First they're asked for their safe words and limits. "No anal fisting" is a universal no-no.
In "Captive Slut" Penny Pax is ball-gagged, nipple-clamped and fastened to an X-frame by John Strong. He shocks her with a prod and sticks his dick in her mouth. She escapes from her cage and hides, he finds her and spanks her with a rod as she squeals. He alternates pussy and ass fucking as she squirms in pain/pleasure.
Stella Cox, a Brit, lovingly examines the dildos and buttplugs in her "anal arsenal." In a scenario titled "Immigration Authority," Mickey Mod plays an ICE agent who points out she is running a business without proper regard for the rules. When she can't locate her documentation he gets rough and cuffs her. He forces the toys into her mouth and ass, whips her exposed pussy and slams into her butthole. He tells he she can say she's been "fucked by the government," in a humorous quip.
Cherie DeVille has had lots of experience with BDSM and says she's drawn to "abduction type scenarios." That's what she gets in a very intense scene. Owen Gray drugs her, knocks her out, ties her up, ball-gags her. He throat-fucks her, then fucks her in doggie, still tied up. He finally buttfucks her, a lot. Afterwards Cherie says she had "a really fun time."
Synopsis:
Submissive Sluts Are Dominated With Rough Sex And Bondage.