TS Pussy Hunters 3: Lust in the Crowd
Kink.com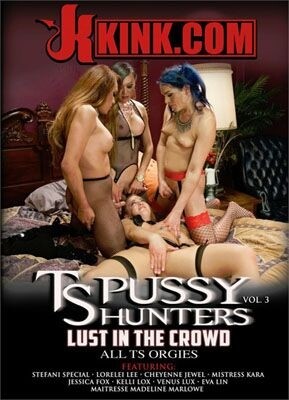 It's T-girls vs. cis-females in these Kink.com fuckfests. First, Lorelei Lee gangs up with Cheyenne Jewel and Mistress Kara to work over TS newcomer Stefani Special. They tie her up, slap her tiny tits with a riding crop and pry open her butthole. There's lots of giggling but the doms mean business. Kara buttfucks her with a strap-on, Cheyenne sits on her cock. Finally, in what may be a money-shot first, they jerk her off into her own mouth.
Cheyenne Jewel is on the bottom as she gets gangbanged by Kelli Lox, Venus Lux and Jessica Fox. Venus is particularly aggressive as they make her suck their cocks. "Don't forget those balls, bitch!" They finger her pussy for a "cavity search," DP her and then jerk off on her face.
Maitresse Madeline Marlow, renowned dom and Kink.com favorite, is eager to have the tables turned and submit to three T-girls— "pinned down and fucked hard." Eva Lin, Venus Lux and Jessica Fox really manhandle her: slapping, spitting, choking and of course fucking. "I fucking love it!" she screams as they shove their dicks down her throat. The girls get into each other too. "Everybody fucks everybody" best sums up the shenanigans.
Synopsis:
Lorelei Lee, Cheyenne Jewel and Mistress Kara tie Stefani Special up in bondage, spank her, crop her taint, ass smother her, crop her feet, flog her, tit smother her, strap on fuck her ass, give her bondage blowjobs, fuck her while she's tied down and then make her cum into her own mouth!
Cheyenne Jewel gives the bounty babes a tip on how to find her. The babes act fast but they cannot resist Cheyenne's seduction and soon their cocks are out and they are terrorizing Cheyenne's face, ass and pussy with their meat weapons.
Eva Lin, Jessica Fox and Venus Lux take down Maitresse Madeline in a never seen before transsexual gang bang orgy where everyone fucks everyone. Double vag, TS on TS fucking, deep throating blow jobs, multiple cum shots and a spent, fucked out Maitresse Madeline Marlowe.