Hardcore Gangbang, Volume 4: Double Anal Edition
Kink.com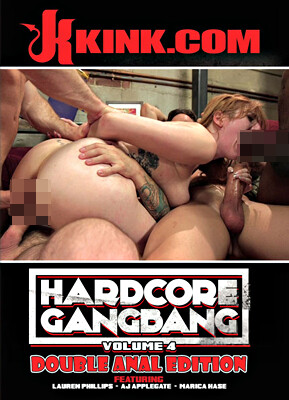 Yep, it's a fantastically ferocious gangbang times three (as in three separate gangbangs, each orchestrated by five dudes), featuring horny, nasty blondes (A.J. Applegate), Asians (Marika Hase) and redheads (Lauren Phillips), and all from the wonderfully bent folks at Kink.com.
And we definitely start off with a "bang," with the ever-luscious, big-bootied A.J. Applegate first up at bat — make that five bats. A check-cashing joint is hit by a bunch of black-and-tied goons wearing clown masks, with one of the cashiers, A.J. Applegate, actually being the unknown head of the theft ring. Later, at their headquarters, Applegate challenges the five freaks to see who fucks her best, with the lads wildly attacking her and nearly tearing her apart like a greasy — and all the tastier! — piece of chicken. After a rough blowbang, with lots of hair pulling and throat gagging (her hands behind her back), Applegate gets her cunt mish pounded, quickly followed by her anus getting blasted, while she continues to blow boner. A doggie DP is close behind (and what a behind on A.J. herself, right?!), with the guys taking separate cracks a her crack. A reverse-cowgirl DP is next, with the boys taking turns at being the anchor cock in her shithole, before there's some, literal, blackness (glitch?), and then a double-anal reverse cowgirl, and some double-vadge doggie which is super, albeit brief. The standing DP is, likewise, terrific but, similarly, rather short. The boys then cum, one after the other, on Applegate's pretty face, then making her lick the excess gunk on a dirty-looking table. Blechh! What a superb whore!
Next, Japanese submissive Marica Hase is teaching her native language to five slobs in a classroom; yet it's only after her students leave for the day that she herself learns, during a very wet dream, the ins and outs of a gangbang involving a quintet of pricks, with the guys pouncing upon her holes like ninjas. After an amazing Hase blowbang, we see her tied up by vices whilst lying upon her back, with the pricks ravaging not only her mouth but her nethermost holes. Then she's, suddenly, freed, with the boys making the compliant wench partake of a doggie DP (whether she likes it or not — but she most definitely does like it!), some double-vadge, more blowbangin', some double anal, reverse-cowgirl DPin', ATMs, more double anal, after which point all of the boys spray custard upon her still-cute face.
Redhead Lauren Phillips is next, getting it from five fellas, with scorching results. Lauren plays a motivational expert, duped by five male jerks to show up at a desolate train station (which is fairly atmospheric), with the freaks grabbing her at the door of their hangout, yanking her inside, and giving her the quintet-dick treatment. They have her arms, thighs and ankles wrapped up in cellophane for a few minutes, before it's removed and a crazed blowbang ensues. Doggie vadge is next, with Lauren's juicy ass beautifully sticking up in the air, as she sucks on two cocks at a time. Vadge anal is next, with more cocksucking, some choking, nipple torture; then it's a doggie DP, with more cock sucking, and the boys taking turns in her crapper, with some double vadge, followed by a reverse-cowgirl DP — and, man, is this delectable broad a screamer! Then we have a bit (a very little bit!) of the ol' double anal, before the degenerates have her upon her knees (and then upon her back) and just cocoon her mug with boy batter. Good girl!
This hard-hitting Kink.com offering contains some truly great rough-sex gangbang action, with each girl showing what a trampy treasure she is, as well as giving provocative interviews before and after (their faces still slightly splooged-out after the literal climax of) these multiple-root ravagings.
Synopsis:
Yep, it's a fantastically ferocious gangbang times three featuring horny, nasty blondes, Asians and redheads and all from the wonderfully bent folks at Kink.com.