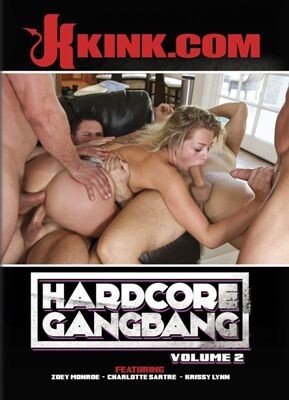 Three extra-hard gangbang scenes, each with its own director who interviews the girls beforehand to make sure they know what they're getting into. Charlotte Sartre, like the others, takes on five guys. "Five dicks in my orifices, it's gonna be awesome, right?"
Her only prohibition: "No two dicks in the same hole at once." The guys shove cocks down her throat, pinch her tits, slap her, fuck her really rough. They use a Magic Wand vibe on her clit during the first DP.
Zoey Monroe, all smiles, says she likes to be "overwhelmed, tossed around." She gets her wish. The multiple DPs are super-strong, as are the piledriver anals. She gets strangled and slapped, and seems to be getting off. Ramon Nomar gapes her ass with his big dick. "I'm a whore," she yells, her face covered with cum.
Krissy Lynn, really pretty with blue eyes and reddish hair, confesses, "It's been a long time since I've had a gangbang..." Her theme is "I am a woman who wants to get fucked." She loves it with one guy banging her doggie-style and another in her mouth. Plenty of DPs. She gapes early and wide and screams with orgasmic glee. "I feel really fulfilled," she sighs after it's over.
Synopsis:
Welcome 19 year old Charlotte Sartre to Hardcore Gangbang! Charlotte blackmails her politician mother in hopes to get a fat stack of cash and all her holes filled airtight! The blackmail works and before you know it this tiny, tight, 19 year old has huge cocks filling all her holes. The men just toss her little body around practically breaking her in two with their hard dicks then covering her holes and face with loads of fucking cum!
Zoey Monroe has been trading sexy letters with a thug in prison who she is trying to rehabilitate. She becomes infatuated and begs her pen-pal to behave so he can get released soon. She shares a dirty fantasy with him: to take her by surprise with all of his thug friends and give her the gang bang of her dreams. She longs to be taken down and used as a blonde fuck doll. Stuffed in every hole, ass pounded, face fucked and used as a cum rag.
Krissy Lynn is a woman who wants to be fucked and who are we to deny her? Hard rough sex, deep double penetration, wet messy blow bang and multiple cum loads on a begging spread asshole.