Divine Bitches 23: The Hotel Divine
Kink.com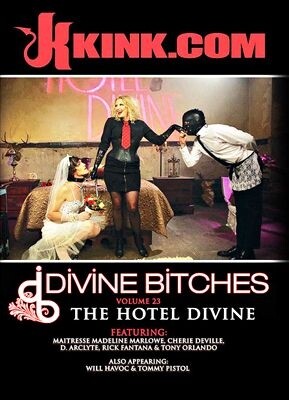 Kinky shit care of Kink.com, with the best of the three episodes definitely being the two featuring older but slammable dominatrix Maitresse Madeline Marlow, who lets the sub dudes fuck her cunt and/or mouth.
Let's face it — you can never go wrong with Cherie DeVille, a 39-year-old MILF whore who loves anal, DPs and gangbangs. And she has one very creative foul mouth, filled with brilliantly dirty talk. But her best asset — aside from her all-around scrumptious body — is her nastiness in the suck and fuck departments, all of which usually merge in your mainstream porn. Here, however, while we get to see her choice bod, we don't get much in the way of old-fashioned, hardcore sex. Rather, she tortures a fella named D. Arclyte in a makeshift dungeon; boring his anus with one of Kink.com's fuck machines, making him suck the big black dildo she straps on, eventually flogging the sap's bare ass (pretty damn hard at points, too), soon finger fucking his shitter before jamming the same big black dildo up said craphole and hammering it home after which she zaps his backside with a … zapper, puts his penis in a fuck machine with a fake pussy on the end of it and makes him eat his own cum, before she sticks the dildo on his mouth and has him fuck her twat with it, whilst she rubs her clit with a huge vibe. The truly horny moment in the entire episode is when big-assed Cherie, all too briefly, sits her delicious derriere on the poor boob's face.
Next, dressed up in a latex outfit, with her horny tits and juicy butt cheeks quite prominent, Maitresse Madeline Marlow really soars (and sores for the two subs included) in this kinky episode. Her BDSM antics taking place in another artsy-looking but atmospherically sleazy dungeon, Marlow starts off by sucking a masked slave's dick to the bone, with plenty of saliva and rude choking sounds. What a grand whore (Marlow, not the slave). By the way, all the while she's taunting a bound and gagged male slave named Dick Fontana, whose shrunken dick is in some plastic vice. Marlow keeps gagging on the masked prick's prick (we'll call this slave Maskie), occasionally taking a break to slap Fontana's chest and dickie-poo. Maskie himself even starts flogging poor Fontana, who's eventually released and finger-fucked by Marlow, who lets Maskie Boy fuck her doggie — real hard — her booty cakes jiggling animatedly while she screams and moans. Marlow comes repeatedly, too, while shoving a dildo up Rick's poop pit. Maskie then porks Marlow missionary and cowgirl, while she has slave Fontana watch ever-so-hornily. Her protuberant backside is especially visible during cowgirl, with Rick sucking her feet, after which Maskie gets his dick sucked again a la Marlow, before the latter does him reverse-cowgirl style, eventually yanking out and coming on her tongue. And, yes, she swallows the sperm cum-pletely.
In episode three, Marlow returns, offering more steamy sex, with yet another two male slaves (who first proceed to get it on with each other). But I really enjoyed the straight sex Marlow enacts (when she isn't finger- or dildo-fucking the "bridal" slave), with our mistress letting another masked slave doggie bang her — her nice, big, all-natch tits hanging out this time — before he probes her cunt missionary style with his iron-hard prick.
Definitely watch this one for the slutty antics of Maitresse Madeline Marlow, who looks fab and (just as importantly) knows how to stuff a cock up her cunt and down her gullet.
Synopsis:
D. Arclyte awaits expert punishment at the Hotel Divine where Mistress Cherie DeVille appears from the depths of her dungeon. She entices him with her array of severe punishing implements and taunts him with her pussy and asshole while his ass gets pummeled. He is strapped to a metal bar, pegged, flogged, and caned. To finish him off, she teases him with her Fucksaw and makes him cum on demand.
Rick Fantana checks into Hotel Divine on his lunch break and immediately realizes he's stepped into a world like no other. Maitresse Madeline Marlowe emerges from a bath of milk and rose petals and she is covered head to toe in latex with her gimp by her side. Rick realizes he's going to be cuckolded as his raging cock is locked in chastity while Madeline slips her latex-clad flesh up and down his body. His prostate is milked by Madeline's long stick while she is fucked to multiple orgasms by her gimp. She drains the gimp of all his cum as Rick can only watch and wish that they would let him cum too.
Maitresse Madeline Marlowe brings her new feminized bride to Hotel Divine for their honeymoon weekend. Tony happily endures whipping from Madeline and her gimp, along with large toy insertions, and big strap-on pegging! She makes him blow his load all over the gimp's black leather shoes and then they make him lick it all up. Madeline then locks him in chastity and puts him in a clear plexiglass box while she gets pounded hard by the gimp's bull cock. She only allows him to leave the box to suck the cum off her gimp's cock as she strokes it all over her blushing bride's face!