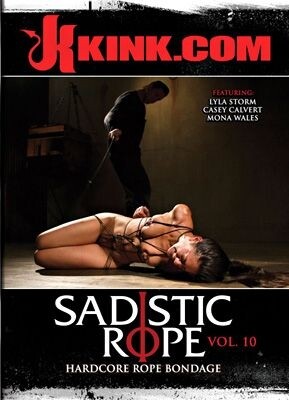 Strappados, squatting stress positions, hogties … all o' that sexplay is in this 10th volume of "Sadistic Rope" from Kink.com. But what I liked most about the movie is the attractive girls — especially the awesome Casey Calvert; and the fact that all three ladies do regular porn (including taking it up the ass from real, honest-to-goodness cocks) — all being freaky and letting some fella named The Pope (TP) do twisted things to their bodies — especially their twats!
First off, there's 27-year-old (harking from Delaware) Lyla Storm, who's gagged, has her tits and pussy flogged by TP, gets her cunt thoroughly vibed before she's tied in a pretzel position, with her nipples being simultaneously tortured, as her juicy cunt is heavily attacked with, again, a vibe, as well as said cunt being deeply fingered by TP's gloved hand. He also jams a big long dildo up her clam; the daunting device looks like it's attached to the end of a broom. The bitch loves it!
Next, one of my favorite porn stars of all time, 27-year-old Casey Calvert (born in Maryland, raised in Florida and looking amazing with/without makeup), is also gagged, bound, hung upside-down, has a big ol' vibrator rammed up against her clit; with some choice views of her superb ass, perfect tits and fresh cunt. I love the fact, too, that she keeps her little white tennies on while being put through the paces, including getting her cunt heatedly fingered. I just wish she, like Lyla (and the upcoming Mona), was put in the pretzel position, so that we could really revel in her choice vagina.
Lastly, we have the big screamer of the three ladies, 32-year-old Mona Wales, who goes absolutely bonkers as TP nipple tortures her, vibes and fingers her clam, as well as whips her breasts, booty, and vadge. I particularly loved viewing Mona bound and on her knees, with her fine buttocks pushed up into the air (our boy having written "whore holes" on the back of her right thigh, with arrows pointing from those same words to her cunt and anus; nice). Ultimately, TP has her standing erect and bound, with what looks like a gutted TV set bizarrely fitted over her head (through which we see her screaming face). It's like her head, and only her head, was caged. He then flogs her ass and vibes her cunt until she comes/squirts/what-have-you. TP also indulges in a little cattle-prodding of Mona. The sick fucks!
This one's definitely for hardcore fans of ladies being bound, whipped, suspended, fingered and all around disciplined, with the unique looks of the damsels (especially, once again, Casey!) — as well as their willingness to comply with such whacked-out maneuvers — giving it all a necessary horniness. I would, however, have preferred to have also seen some simple, down-home cunt-eating; which you do, in fact, get with Kink.com series like the "Whipped Ass" saga. Hopefully next time …
Synopsis:
Sadistic Rope # 10 Hardcore Rope Bondage!
Lyla is a flexible little bitch that likes pain. Sadistic Rope # 10 porn Her arms are lifted behind her into a brutal strappado while her waist is tied to hold her in a squatting stress position. Sadistic Rope # 10 DVD video Lyla is finished with a decorative para-cord tie before being pulled into a hog tie and tormented on the floor until she can't take it anymore.
Casey is a well-seasoned bondage slut, so The Pope decides to tests her limits to see how much suffering she can handle in this session Sadistic Rope # 10 movie. She's bound and gagged as The Pope teases her tight pussy and ass Sadistic Rope # 10 adult DVD. Casey then withstands brutal canning on her feet before being suspended from the ceiling and flogged until she can't handle anymore Sadistic Rope # 10 buy.
Professional Dominatrix Mona Wales has the tables turned on her today as she receives torment at the hands of The Pope Sadistic Rope # 10 porn. Flogging and canning are just the start for Mona as The Pope brings her to multiple squirting orgasms Sadistic Rope # 10 DVD video. Mona can't keep her smart-ass mouth shut so her session ends with brutal nipple torment, and cattle prodding Sadistic Rope # 10 movie.