TS Seduction Vol. 4: Rubber Room Rituals
Kink.com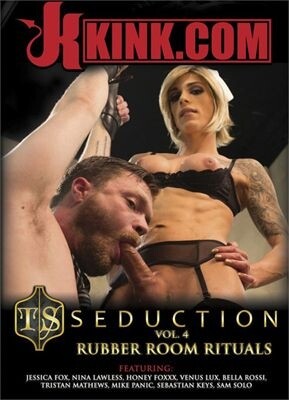 Transwomen tops play medical professionals with male bottoms, mixing light bondage and rough sex. TS star Jessica Fox is a dominant doctor examining Tristan Matthews. He sucks her dick, then gets tied down in a padded cell. She sits on his face then sucks his dick, fucks his ass and shoots off into his mouth.
Nurse Nina Lawless gets to abuse the all-too-willing Mike Panic. Chained, strung up, he's forced to suck the doc's dick, which he loves. Then he eats her ass ("tastes amazing"). "Fuck me hard," he begs, and she does.
"He's the best bottom," says Honey Foxx of Sebastian Keys. He plays a sex addict who has to be cured, writhing on the floor in a straitjacket. Honey clamps his balls and forces him to suck her cock. She smacks his ass with a cat-o-nine tails, then plunges her dick deep in his ass.
Skinny Sam Solo gets treated by doctors Venus Lux and Kink.com regular Bella Rossi, who is cis-female. Bella parks her pussy on Sam's dick as Venus strokes her cock. She fucks Sam's ass as he sucks on Bella's tits. Venus fucks Bella, Bella sucks Sam and Venus fucks Sam hard. She and Sam both come on Bella and Sam licks up the jizz.
Synopsis:
A visit to the doctor gets you a mouthful of Jessica's Fox's delicious cock as the remedy or at least that's what Tristan Mathews finds out and so much more!
Mike Panic is sent to the psych ward after getting caught masturbating in public 37 times! Come to find out he has a secret obsession and Nina Lawless has no problem using it against him! She makes him worship her gorgeous feet, lick her beautiful puckered asshole then fucks him so hard and so deep you can feel her power through the screen.
Dr. Honey Foxxx administers 7 days of intense treatment on sex addict Sebastian Keys. Honey Foxxx uses her huge hard cock to teach him that her cock is what will be getting all the attention. Honey is on fire with her gigantic dick ramming his fuck hole deep and covering his face with cum.
Venus Lux and Bella Rossi are lab technicians in a sexual arousal study. This hot medical three-way features some fine ass fucking and hot TS/Female/Male action!