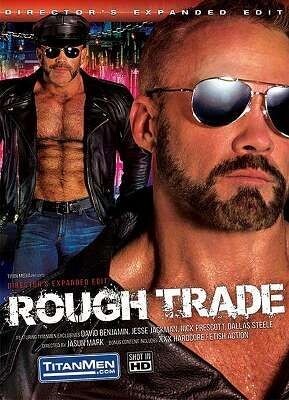 Three intensely erotic scenarios shot on location at the legendary Faultline leather/Levi's bar in Los Angeles with harnesses and jock straps provided by Rough Trade Gear and billed by Titan as reminiscent of their fabled "Fallen Angel" series.
Darkly lit and suffused with reds and blues and filled with overlapping imagery to create a dreamlike effect, director Jasun Mark may have titled his sexpic "Rough Trade" but all of the featured studs are equally engaged and more hungry for cock and ass than the next.
Jesse Jackman, brawny and muscular with a furry chest lightly dusted with grey hair, is a superb match for the Diesel Washington. The latter, perhaps sensing he has an equal scene partner, leavens his customary intensity to achieve a level of sensuality that is quite erotic.
Dreamboat Adam Ramzi, clad in jockstrap, harness and leather jacket, catches the eye of rugged stud Dallas Steele for another sensual matchup whose intensity builds as they flip-fuck — Steele returns to close out the film with a bit of dildo play atop a pool table.
David Benjamin, in a red leather jock strap and harness that hugs his bubble butt, can't seem to believe his luck that he has Dirk Caber as a sex partner. Watch the grin on his face as Caber gnaws on his nipples. Benjamin is a verbal bottom and never cedes control as he coaxes and pleads with Caber, and later Nick Prescott, when he's strung up in a sling and even when a sizable dildo is brought out. It's terrific sex, soaked in testosterone.
Synopsis:
Bulges burst out of leather harnesses and jocks. Spit drips... piss flows... and holes ache after some intensely hard fucks from big dicks, even bigger dildos and massively meaty fists. Turn off the lights and join these TitanMen as they perform their Rough Trade.
In a dark barroom, Jesse Jackman and Diesel Washington kiss as they rub each other's bods - their muscles bursting from their leather gear, their faces covered in shades and hats. Jesse devours Diesel's big dick, teasing the underside with his tongue. Diesel sucks the stud back, gulping it up before eating his beefy hole. Diesel fucks Jesse from behind before the bottom sits on him, his hairy cheeks devouring the top's monster as his own dick head bounces off Diesel's tight abs. Jesse gets on his back as Diesel goes fast and slow, the bottom soon coated in cum.
Adam Ramzi watches Dallas Steele - the voyeur's mouth soon working up the bulge in Dallas's leather jock. Adam opens wide to take in the alpha's thick shaft. ("Fuckin' all the way! Swallow it!") They kiss, Adam soon face fucking Dallas's scruffy face. Dallas eats Adam, then grabs hold of his harness as he fucks him. He wraps his arm around the bottom, pulling him back for a kiss before pushing him down again. Adam sits on the smiling top, the bottom's boner bouncing up and down. Adam fucks the stud back, feeding Dallas his cock after they shoot.
Bursting out of their harnesses and jocks, David Benjamin and Dirk Caber lick each other's pits before swapping sucks. "Fuck my mouth, man!" says David, moaning "Smells like a man!" as he takes a big sniff of Dirk's groin. David squeezes precum out of his own dick, rubbing it on Dirk's tongue before taking a taste himself. Dirk eats and fucks David, the two then finding Nick Prescott in a sling. They suck him before David gets in the sling, getting stuffed from both ends: "Gimme that fucking hairy cock!" he shouts as Nick plows him. "Make your fucking dick feel good!" Nick grabs the bottom's harness as he fucks him, then dildos David before they squirt on him.
Editor's note: The following sequence appears only in the Director's Cut / Expanded Edit:
Still in the sling, David gets doused in piss and spit from Nick, Dirk, Adam and hairy Dolan Wolf - who gets in the sling for an anal assault from David and Nick. David feeds Dolan as Nick fingers the bottom, the two taking turns fisting him. Nick pisses in Dolan's mouth as David fists Dolan, Nick joining him again. ("Fucking open that pig hole up!") More piss flies, the two sliding both of their hands into Dolan's hole. Nick shoves a huge dildo in him, then eats him: "Show me that fuckin' rosebud!" David fists Dolan as Nick pisses on the bottom then punches a dildo deep in him. Dolan comes with Nick's hairy forearm inside. Dallas jacks out a big load in the final shot.