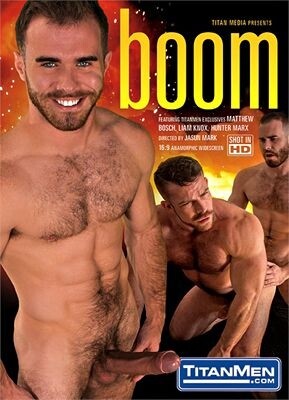 Director Jasun Mark continues to expand the TitanMen Extended Cinematic Universe with the latest sexcapades involving Big "D" Construction, where the job requirements include an oversized package and a willingness to abandon your job for a suck-and-fuck session with coworkers and customers.
Fans of older/younger sexplay will get a thrill from burly, African-American hunk Jason Vario's smooth dominance of eager, wide-eyed Jack Hunter, slender and hung, who wears a look of surprised shock and pleasure throughout his passionate encounter with Vario. He manages a spit-soaked deep-throat of Vario's thick python and spreads wide as Vario buries the boner into Hunter's bubble butt all the way down to the root and then dumps a sticky load onto his puppyish features.
Elsewhere, Hunter has a flip-fuck with lean, dark and devilishly handsome Adam Ramzi where he is afforded the opportunity to be more dominant. First, Ramzi is all business as he and Hunter make out and trade blowjobs and he plows Hunter with smooth confidence. When they switch positions, Ramzi becomes more active and vocal and he jacks out a large cumshot from his torpedo boner.
Adam Thicke is a low-key furbear with an alluring, uncut boner that he unleashes for rugged, burly Hunter Marx, who looks terrific with his muscle butt slung in a white jock strap. Thicke drives his cock deep into Marx and jacks out an oversized load onto his hairy stomach.
Matthew Bosch and Liam Knox share a friendly chemistry for their pairing. Knox savors his topman's plus-sized cock, playing with it and showing it off before sucking it down. He eventually climbs into Bosch's lap to bounce on the boner and fuck himself with it. Bosch keeps up the pace as the two furred gents maintain their connection through eye contact and verbal encouragement. Bosch closes out their hookup with a splattery climax.
Synopsis:
The hats aren't the only things that are hard as the men of Big D Construction return to the job. Watch their sticks go Boom as TitanMen exclusives Matthew Bosch, Liam Knox and Hunter Marx continue wrecking wood-and each other.
At the construction site, Liam Knox can't keep his eyes of Matthew Bosch's bulge-which is soon banging both of his holes in a fast fuck that has the verbal bottom moaning like a man.
Foreman Adam Thicke has a tool that Hunter Mark can't put down, the hairy stud's own jockstrap bursting at the seams before he gets his ass owned.
A piss bucket brings workers Adam Ramzi and Jack Hunter together, the two worshipping each other's cocks before a fast and sweaty flip fuck leaves Adam's beard coated.
Fresh from his fuck, Jack Hunter gets another round from hung and horned co-worker Jason Vario-a verbal boss who uses his thick hammer to pound the breathless bottom.