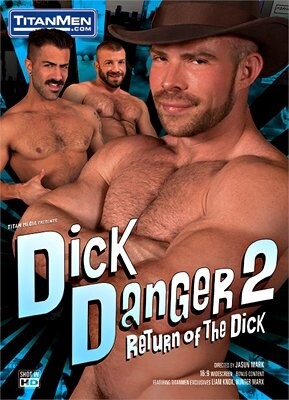 Director Jasun Mark's amusing follow-up to the fan-favorite 2014 original — featuring Jesse Jackman, Rogan Richards and Hunter Marx ("He pulls the heist … you get the shaft!") — toplines Liam Knox, Adam Ramzi and other marquee studs, as well as Marx in a welcome return. Special kudos to the stylized comic-page transitions between scenes.
Tristan Jaxx, musclebound and handsomely grizzled, is on a mission and pairs off — purely out of duty — with dreamy Adam Ramzi. They share a friendly chemistry and Ramzi is a strong, responsive and sensual bottom — he pushes back and grinds on his topman's cock — and Knox clearly gets off on the attention and service.
Elsewhere, Hunter Marx is also sacrificing in the line of duty as he seduces — without a ton of effort, to be fair — ruggedly handsome Hans Berlin (German, as if the surname wasn't a giveway). Berlin is affable and intense as he deepthroats his partner and the pair flip-fuck with an appealing, slow-burning intensity.
The next vignettes present an interesting twist as delicious oral action between Ramzi and Derek Maxum, and Jaxx and Micah Brandt, are interrupted, leading Ramzi and Jaxx to separately wank their cocks to climax. Brandt, especially, is such a sexual firecracker that it's almost frustrating that we don't get to see Knox fuck the stuffing out of him.
Wolfishly handsome Dakota Rivers turns up to deliver another coolly confident, sensual fuck to Knox to close out the action. They are an appealing pair of opposites and the physical chemistry is strong.
Synopsis:
Do you like danger? Dick Danger? You can never keep a good dick down, and as corruption envelops the Hollywood Hills once again, a hardened man comes to the rescue. Join TitanMen exclusives Liam Knox and Hunter Marx as they go undercover in Dick Danger 2: Return of the Dick!

Tristan Jaxx has a hard drive that Adam Ramzi needs. They quickly reach an agreement to please both parties, swapping oral info before Tristan takes his payment.

Fresh out of the slammer, Hunter Marx is sent on a mission to please agent Hans Berlin after a deal goes south - taking the big German sausage up both his fuzzy holes in a flip fuck.

Suspicious of each other, Liam Knox and Adam Ramzi text about their oral exploits - Liam with Micah Brandt, Adam with Derek Maxum - before stroking out their own loads.

Dick always comes out on top - but Liam Knox can't resist bending over for tall Dakota Rivers, who shows how he always has his bud's back.