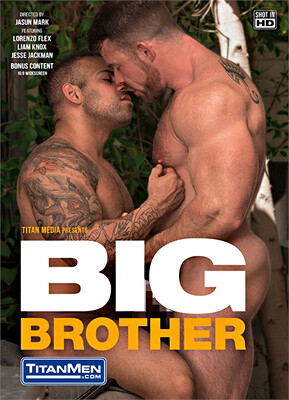 Four scenes of solid, no-frills blue-collar sexplay shot around the TitanMen compound in Palm Springs, with a bit of underwater camerawork. It should be noted that despite the title, there is no relation to the reality show or dystopian novel, nor is there any sibling fauxcest. That being said, the unsinkable Luke Adams is a highlight alongside Jason Vario and Daymin Voss.
Adorably scruffy studpup Luke Adams steals the show, as usual, with his unbridled enthusiasm. He's paired with extra-hung Tristan Jaxx, handsomely weathered, who seems bemused by Adams' daddy-worship ministrations. He finger-fucks Adams and plows him in a few positions, although it's Adams who fucks himself, essentially, and in the best way, by riding Jaxx hungrily and egging him on.
Elsewhere, African-American hunks Jason Vario (bald, intense, imposingly muscled) and Daymin Voss (equally fit with a furry torso) skip their workout session for a sensual flip-fuck that bubbles over with erotic intensity, particularly when they switch positions and Voss makes love to Vario. It's a strong pairing.
Outside, bristly, muscled workman Liam Knox makes love to his coworker, Lorenzo Flexx. The latter's sensual, romantic side are an opposite-attracts match with his topman, while Jesse Jackman (burly, bald, superbly fit) bangs Julian Knowles in and around a pool. Jackman is all business as he stuffs Knowles, who appears to zone out with erotic bliss, full of his sizable cock.
Synopsis:
Need a spot? Some muscles for manual labor? A lesson in home improvement? Your Big Brother is always there with a strong helping hand. Get your guy time in with TitanMen exclusives Lorenzo Flexx, Jesse Jackman and Liam Knox, who bring male bonding to a new level.