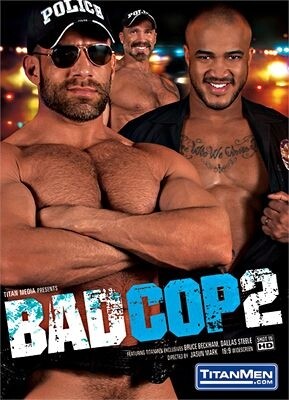 Off-duty cops whip out their stiff batons and help each other relieve the pressure of their work in this uniformed-sexplay romp from TitanMen and director Jasun Mark.
Micah Brandt is a veteran performer but few guys appear to enjoy themselves onscreen as much as he does. He chokes down Tex Davidson's beercan-thick torpedo of a cock as if he's never tasted anything so good. His eyes roll up, he grumbles and growls, egging on Davidson, and drenching him with his own sweat as he fucks himself, so to speak, with Davidson's own boner. Extra points for incorporating pieces of their uniforms into their fuckplay.
Elsewhere, silver fox Dallas Steele is watching Brandt and Davidson on a security camera and turns to lean-and-fit, wolfishly handsome Dakota Rivers for relief. They both make their tight, fitted cop uniforms look really, really good. The two studs work each other expertly, Steele is a vocally appreciative recipient of Rivers' boner and they close out the film on a high note.
Rivers initially appears opposite lickable stud Jeremy Spreadums, a terrific, sensual performer whose smooth, muscled physique is built to burst out of a tight uniform. He properly services Rivers, taking his time to slather his topman's dick with spit, maintaining eye contact and flexing his gorgeous thighs as he rides Rivers and brings him to climax.
Jason Vario and Bruce Beckham share a friendly, potent chemistry as they strip off their uniforms and eagerly service each other's eye-popping boners. Beckham wears his sunglasses throughout the encounter with Vario, particularly as the latter plugs him with seemingly genuine pleasure and enjoyment, which adds an extra bit of appealing sizzle to the scenario.
This is a thematic sequel to "Bad Cop" from a few years back with Adam Herst, Donnie Dean, Hunter Marx and Nick Prescott.
Synopsis:
They've made their pledge to serve and erect. When long shifts are over, aggression takes control at a precinct where the officers break their own rules. Get arrested by TitanMen exclusive Dallas Steele, who leads an Internal Investigation where blue steel meets blue balls.