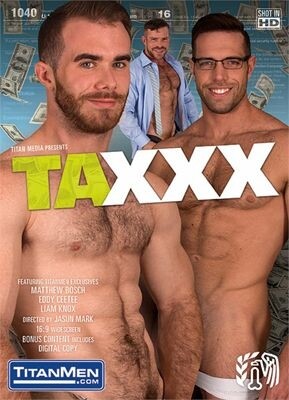 If every taxman looked like these guys, more men would happily hand over their money. Superlative studs Bennett Anthony and Alex Mecum stand out among a strong six-hunk cast.
Bennett Anthony gets a visit from the tax office in the form of Liam Knox, whose prominent bulge understandably pulls focus. Knox is rugged and bristly, while ginger stud Anthony is a genuine sexual firecracker with screen charisma in spades. The two are vocal with each other, particularly Knox, leading into hungry oral play. The energy really spikes when Anthony bounces hungrily on Knox's boner, showing what a real power-bottom can do.
Alex Mecum, square-jawed and gloriously handsome with a white Pepsodent smile and superb physique — seeks relief from doing his taxes with scruffily handsome Eddy CeeTee. They each pay proper respect to each other's boners; CeeTee seems to particularly appreciate Mecum's oversized cock. A surprise bit of toe-sucking and foot worship leads into a seriously aggressive ass-pounding by CeeTee; Mecum grins throughout and remains hard as he receive a pile-driving fuck, ending with a fountain spray of cum.
Tax officer Matthew Bosch, a charmingly handsome otter type, investigates Jason Vario, a burly jock, who apparently claims a suspicious tax deduction or two. They work it out. The two men, physical opposites, share a sensual, almost tender chemistry. Deep-throat oral is particularly enticing, especially as both men are hung halfway down their thighs. Bosch's moans and groans seem to appeal to Vario as he drives his boner down to the root into Bosch's firm butt.
TitanMen and director Jasun Mark continue their erotic exploration of tax revenue office investigators — following last year's terrific "Taxman Cumeth" with Tex Davidson, Adam Ramzi and Diesel Washington, among others — which is not a development one would expect in all-male adult. But it works. Mark is a seasoned pro who keeps the corny dialogue to a minimum and puts the focus on moments of connection between the men that amp up the sexual heat.
Synopsis:
The agents are back, and they're ready to bust your balls. The only way out of this TaXXXing situation is to unzip a big out-of-pocket contribution. Watch what happens when TitanMen exclusives Matthew Bosch, Eddy CeeTee and Liam Knox show some personal interest in their jobs. Taxman Matthew Bosch works out a deal with deduction abuser Jason Vario, the two deepthroating each other's uncut monsters before Matthew gets his furry ass inspected. Stressed out Alex Mecum needs a break from his forms, and gym-fresh Eddy CeeTee is happy to donate his dick to the cause. Agent Liam Knox catches "massage therapist" Bennett Anthony in a big fat lie, then blackmails him with his big fat dick.