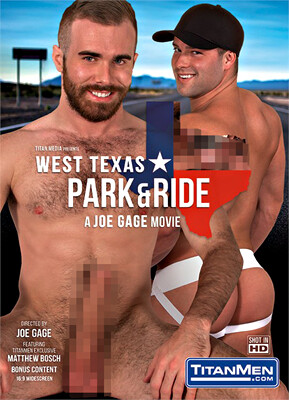 The latest from legendary helmer Joe Gage utilizes a familiar group of TitanMen studs to good effect. A blue-collar flavor and emphasis on authority figures, along with a twangy soundtrack and carefully composed framing and precise editing, add juice to the sexplay. Luke Adams steals the show, as usual, in two scenes.
Dakota Rivers and cover stud Matthew Bosch are similar types — both lean and lightly furred and handsomely scruffy — although Rivers is more wolfish, while Bosch is clean-cut and wholesome. Close-ups on boners and eye contact establish a connection as the men move towards each other for assured blowjobs and a strong piston-fuck from Rivers as Bosch groans appreciatively and takes a load from his topman onto his beard.
Luke Adams demonstrates true acting talent by feigning shocked surprise after bearded hunk Tex Davidson, his sizable bulge apparent, orders the studpup to strip off his clothes. Adams, clean-shaven with a backwards baseball cap, drops to his knees to enthusiastically suck every inch of Davidson's thick python down his throat, to the latter's obvious delight. Davidson plays with Adams' lovely cock and then drives his boner deep into the younger dude's plush ass.
Burly African-American stud Jason Vario is getting in a quick wank when security guard Jeremy Spreadums, whose muscled, athletic physique is built to be squeezed into a tight uniform, confronts him. Spreadums is supposed to be the authority figure but he clearly gets off on being of service. Vario's plus-sized boner sliding between his sensual lips and down his throat is a sight for sore eyes. Vario drills him with confident ease atop the hood of a car and then splatters his chest and neck with seed.
Adams takes on the formidable double-team of Bosch and Vario and he is more than equal to the task. His bubble butt beautifully framed by a white jock strap, he eagerly swallows the plus-sized erections of both men and groans happily as Vario plugs him straight down to the root. Adams' mouth is teasing Bosch's cock and balls while he is fucked by Vario when he jacks himself to climax, drenching himself. Quite a talent.
Synopsis:
TitanMen exclusive Matthew Bosch hits the road outside Fort Worth - but what adventures await him under the sweltering Texas sun? And what clandestine dealings are heating up the West Texas Park & Ride? Director Joe Gage slowly unfolds the intrigue in his masterful look at shady dealings in small-town America.