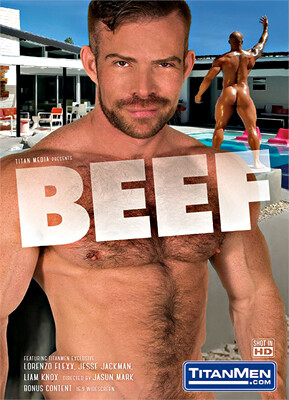 Builders and other blue-collar studs hook up around the eternally-under-construction TitanMen compound in Palm Springs. The furred musclebods and friendly, masculine aggression are top-notch vintage, as usual. Liam Knox, more pumped than ever, is showcased twice.
"I think we ought to fuck," intones burly construction stud Liam Knox to fellow hunk Daymin Voss after the pair show off their ink and biceps and Voss displays his muscle butt framed by a jock strap. They trade spit-soaked, deepthroat blowjobs and although they flip-fuck, it's the muscular, pumped Knox who takes over by throwing an aggressive, intense fuck into a moaning, groaning Voss.
Elsewhere, Knox returns for a second vignette when plumber Julian Knowles, who is inked with sensual good looks and a thick, downwards-curving cock, interrupts his shower. (Watch for the naughty grin on Knox's lips when Knowles asks if there's anything else he can do.) As usual, Knox is all business as they trade deepthroat blowjobs and proceed to a grunting, groaning fuck session.
Hunky African-American musclebod Jason Vario emerges from the pool and struts over to a sleeping Lorenzo Flexx and begins a seduction. Both men take delight in each other; assplay, in particular, is particularly enjoyable. Flexx, for his part, sucks down every inch of Vario's boner and the two studs are perfectly in sync as they fuck poolside.
An eye-catching piece of drone-mounted camerawork catches a resplendently nude Jesse Jackman – bald, furred, muscled, dripping with testosterone — sun-bathing in the pool. He invites Luke Adams, a horny peeping tom, to take a closer look. Adams' servicing of the TitanMen tops has been a thing of wonder in recent years. He deepthroats and kisses with relish and happily lends his bubble-butt for a pounding, the more aggressive, the better. Jackman butt-slams Adams poolside and then moves indoors for more sexplay.
Synopsis:
How do you like it: Tender and juicy? Round and rare? Aged and seasoned? Whatever you prefer, TitanMen exclusives Lorenzo Flexx, Jesse Jackman and Liam Knox have you covered as they serve up their prime slabs of Beef.