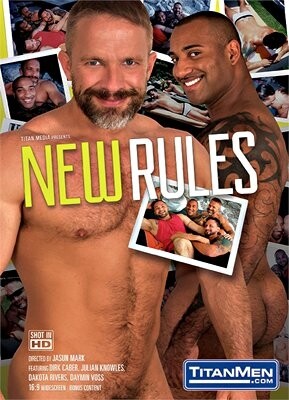 Two romantic couples mix-and-mingle for a weekend of friendly, erotic fun at the TitanMen compound in Palm Springs. All four studs are familiar to fans of the studio and their real-life camaraderie is apparent in their sexplay. Dirk Caber, with that irresistible, wicked twinkle in his eye, steals the show in two scenes.
Julian Knowles and Daymin Voss show up to the compound and have time on their hands, so they pleasurably make love. Both men are brawny and broad-shouldered; Knowles, especially, bursts out of his muscle shirt and tight shorts. Voss, African-American, bald and covered in fur, with a thin pencil mustache — it works on him — trades passionate kisses with Knowles, lovingly sucks cock and twists his own nipples as he's being blown, among other grace notes that demonstrate his enjoyment, and flip-fucks energetically in bed.
Caber and Voss share a similar friendly chemistry; Caber's boner is stretching out his tiny swimsuit as he massages Voss' crotch. He asks for permission to feel up his friend and receives an enthusiastic go-ahead. "We plan to do this all weekend with you guys," Voss avows. Caber grins throughout his sexplay, stopping to savor his partner's cock, really diving into his ass, and rubbing his handsomely greying chin scruff against Voss' skin for added sensation, as they flip-fuck, too.
Caber, with a devilish grin, heads out with Voss for the day, but first he gives permission for Knowles to get his horny butt into the main bedroom to pleasure Rivers, who is awake with a quickly rising boner. They kiss and trade oral favors — Rivers, wolfishly handsome, is quietly intense and all business, as usual — and Knowles happily submits to his topman, forcefully powering their sexplay.
Rivers and Caber make love to close out the movie and the latter, as ever, is fully present for his partner and even turned on that the scent of Rivers' sex with Knowles is still on his skin. Caber smiles and groans and offers encouragement as Rivers plows him with pistonlike intensity and drops a thick load onto his face.
Synopsis:
Sex is fun. Why limit yourself? When two devoted couples spent a relaxing weekend together, they show how modern relationships have New Rules as they swap spouses - and redefine what love means.