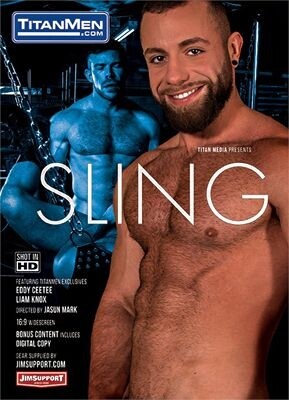 Three sensuous, sweaty matchups involving sex slings and other "toys" (provided by JimSupport.com) marked by superb chemistry between all six men, particularly Alex Mecum and Eddy CeeTee, although Adam Ramzi's domination by scene-stealer Jason Vario is another highlight.
Liam Knox and Eddy CeeTee, both brawny and burly and furred, are touring where slings and sexual accoutrements are built. Knox, naturally, has to take his new "fuck bench" on a test drive. He and CeeTee fall into a natural rhythm and CeeTee pounds away at him with abandon. The latter really sparks to life when he tries out a sling in several positions, groaning and grumbling as Knox slams into him and then jacks out a load.
Beautiful, clean-cut and thickly hung stud-next-door Alex Mecum takes a delivery of a new sex sling from bearded, roguishly handsome Tex Davison, whose beer-can-thick sausage entrances Mecum. The two trade slurpy, intense blowjobs — Mecum is taller but they fit together for a perfect 69 — and Davidson deepthroats Mecum with relish. He rides the latter's boner and then slides his own cock down to the root when Mecum is spread wide in his new sling.
Deliveryman Adam Ramzi is impressed by the "play gear" he finds inside Jason Vario's warehouse. They make for a mighty fine-looking pair. They kiss with passion and enjoyment and trade blowjobs — Vario deepthroats with ease — and Ramzi gets good use out of a rimming chair. He takes Vario's thick cock standing up, their naked bodies glued together, and then spreads back in a sling for a more intense, vocal fuck session.
Synopsis:
Lie back, put your feet up and grab on to those chains-this is gonna be a fast and furious ride. A sex shop warehouse and its superior Sling leaves its playful employees and customers-including TitanMen exclusives Eddy CeeTee and Liam Knox-begging for more.
Deliveryman Adam Ramzi exchanges packages with warehouse worker Jason Vario, who finishes the stud off in a sling-a final facial coating the bottom's beard.
Clean-cut jock Alex Mecum can't keep his eyes off of blue-collar sling deliveryman Tex Davidson, their two huge cocks taking turns deep inside each other's hungry holes.
Store manager Eddy CeeTee gets a glimpse of new designer Liam Knox at the factory, the two testing out the merchandise in a verbal flip fuck.