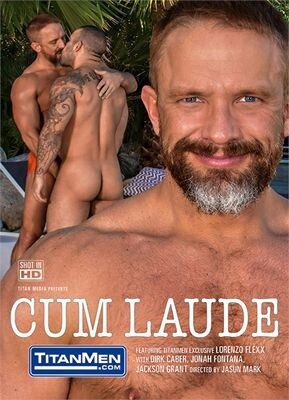 A special, men-only "erective degree" is offered by Professor Dirk Caber to his former students, who also explore erotic specialties of their own. Solid, energetic, vocally appreciative sexplay featuring several TitanMen marquee stars with a couple of eye-catching newer studs.
Genial stud Dirk Caber, fit and scruffy with an attractively grey goatee, still turns heads in a tight Speedo as he struts around the pool to offer up his insta-boner to former student Jackson Grant, as well as sensual, burly stud Lorenzo Flexx. Fans of older/younger matchups will appreciate Caber's sexplay with puppyish young hottie Grant, who seems inspired by his older lover and pounds away at him with a furious intensity and then spreads his legs for a more focused fuck session delivered by his former professor.
Caber and Flexx share a friendly chemistry with a poolside skin-on-skin makeout session and eye contact. He offers up his plush ass for Caber to carefully prep and explore, encouraging and egging him on. If Caber offered this kind of coursework in the real world, he'd have a line of eager students around the block.
Elsewhere, Flexx pairs off with Jonah Fontana for more easygoing sexplay in a secluded spot in a shady corner of the TitanMen compound. The sight of burly Flexx riding Fontana, a younger dude with collegiate-jock good looks, makes for an appealing pairing of physical opposites. Fontana has a second pairing with Jackson Grant, indoors, where the pair explore each other's bodies and director Jasun Mark choreographs the action attentively.
Synopsis:
You've studied hard. Now it's time to work on your extracurricular activities. Join TitanMen exclusive Lorenzo Flexx and other star students as they get a special erective degree from their professor at a retreat where everyone gets to Cum Laude.

Professor Dirk Caber is thrilled that Jackson Grant is graduating, taking advantage of the situation with a poolside flip fuck that passes with flying colors.

Voyeurs Lorenzo Flexx and Jonah Fontana sport serious wood that needs immediate attention. After acing their oral exams, Jonah shows why he's top of the class.

Who's the biggest man on campus? It's a close call as Jonah Fontana tracks down classmate crush Jackson Grant-their sizable assets each making impressive cases.

Lorenzo Flexx has been wanting to get inside professor Dirk Caber's pants since the first day of class. He finally gets his wish as their retreat comes to a close with one final hands-on lesson.