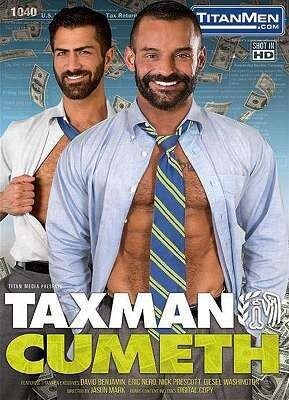 Props to TitanMen house director Jasun Mark for this cleverly themed (and hilariously titled) fuck flick that actually makes interrogation by a tax agent sexy. There isn't a dud among the six gents and three scenes; Titan is really on a roll this year.
Handsome, clean-cut Tex Davidson is just trying to earn an honest dollar with a webcam show and a penis pump when he's interrupted by Eric Nero, long and lean and delectably hung. In an amusing and clever twist, Davidson's webcam is left rolling during his sexplay with Nero and Mark switches to the POV of the audience watching the action from home. It's a conceit that really works.
Elsewhere, Diesel Washington is one of the guys watching the inadvertent webcam show when David Benjamin turns up to help him relieve the pressure. Benjamin is the ideal bottom for an alpha-top like Washington and impressively deep-throats his oversized boner right down to the base. Very nice, indeed. His plush hole is more than a match for Washington's piston-fucking.
Dreamily handsome, Adam Ramazi is understandably distracted by Nick Prescott's boner in the third and final vignette. Prescott expertly sucks him off and they move to the bed where they 69 and flip-fuck with seemingly genuine pleasure.
Synopsis:
He's got a personal interest in you. He means business. And he's going to audit your ass if you withhold from him. He's the tax man, always ready to whip out a penalty for early withdrawal. Join these men as the taxman cumeth and they collect on their dirty debts.