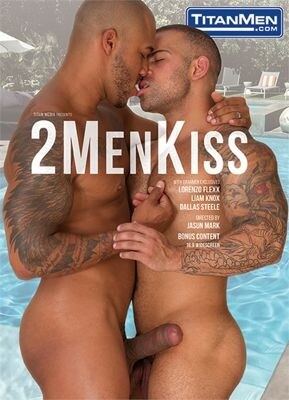 Director Jasun Mark trains his camera on physical intimacy and sensual body contact in the latest rousing sexpic from TitanMen.
Burly ball of muscle Liam Knox, bursting out of a three-sizes-too-small swimsuit, strides from sparkling blue pool waters and hooks up with scruffy salt-and-pepper hunk Dallas Steele. Their chemistry, as it is throughout the film, is on point. They slavishly devour each other's cocks down to the root, smile and maintain eye contact. Watch for Steele's sly, sexy grin when Knox, sweat-drenched, asks for a flip-fuck.
Alex Mecum, superhero-gorgeous, appears particularly beguiled by the lean, dark and dreamily handsome Adam Ramzi. They kiss, deeply, as Mecum's head is resting in Ramzi's lap and even when Ramzi is slamming Mecum full of cock. It's excellent sex and Mecum eagerly agrees to flip the table and slide his own oversized boner into Ramzi to return the favor. Ramzi, for his part, fidgets as he waits for his handsome face to be splattered by Mecum's spurting cock.
Elsewhere, furbear Dirk Caber is lazily jacking his boner outdoors and draws the attention of ruggedly handsome Anthony London. They expertly blow each other and then move indoors, where London aggressively butt-slams Caber and then flips so that Caber can deliver the same piston-like screw to him. The two mature, furry men bellow and growl (particularly Caber) and grin as they egg each other on.
Jason Vario and Lorenzo Flexx share potent chemistry as they kiss and take extra time to explore each other's bodies in the pool and shower before moving indoors. Flexx sucks on Vario's thick, imposing poker like it was a lollipop and Vario clearly enjoys the slavish attention. Flexx bounces on Vario's erection with gusto.
Synopsis:
It's the rush you feel when you look into his eyes. The urge that overwhelms you when you see his body. The bolt of electricity that courses through every hard inch when he touches you. Join TitanMen exclusives Lorenzo Flexx, Liam Knox and Dallas Steele as they show you what happens when 2 Men Kiss.