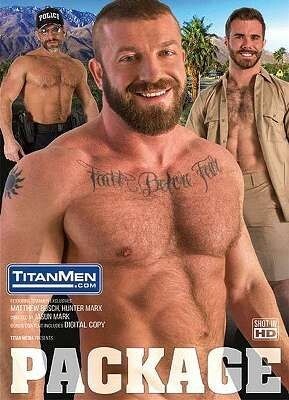 Matthew Bosch delivers packages and, of course, his own sizable package is on full display alongside a bit of costume play and flip-fucking with a small but mighty cast in this three-scene TitanMen effort.
Bosch is a rising star in the biz and TitanMen has gone out of their way lately to showcase his wholesomely scruffy good looks and other fine assets. He and onscreen partner Dirk Caber bulge out of their tight uniforms — deliveryman and police officer, respectively — and Bosch's first stop is to deliver a box of TitanMen product to Hunter Marx.
Both men are scruffy while Marx is a bit older and more brawny than Bosch, who brings a hungry intensity to their sexplay. Marx fucks him over the countertop and onto the floor where they flip-fuck briefly. Grace notes include regular eye contact, intense assplay and Bosch's spit-soaked blowjob.
Back at home, Bosch is enjoying his porn when Caber comes home and puts his partner's boner to good use. Caber's customary piggish intensity is fully on display — he's highly vocal, a passionate kisser, deep-throats beautifully — and Bosch rides him on their couch. Watch for when Caber rubs his buzzcut over Bosch's pink hole.
The final vignette begins as a duo between Marx and Max Sargent on a backyard patio. The two men are built similarly and the chemistry is choice. Soon, Officer Dirk comes along to make it a threesome and immediately takes charge. He's got the swagger to pull it off with authenticity. Sargent takes a turn on the bottom, too, which doesn't happen often enough, alongside Marx and Caber. It's a terrific matchup that gives equal time to all three studs.
Synopsis:
You know you wanna open it. Its hiding a surprise, waiting for you to bust it out. And a doorbell ring with a special delivery is all it takes. Join these TitanMen as they initiate a scorching chain of events when they show off their Package. Deliveryman Matthew Bosch has more than one gift for horndog Hunter Marx, who gives the wannabe porn star an instant audition hell never forget. Fully uniformed cop Dirk Caber sniffs the fresh smell sex off husband Matthews bod, so he shows him whos boss by fucking the hell out of his holes. A spit-dripping oral encounter between Hunter and Max Sargent is interrupted by alpha officer Dirk, who throws his dick in the mix in an arresting three-way.