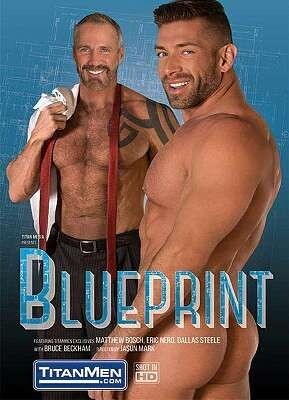 Four extended scenes of construction-site sexplay tinged with self-aware humor (three guesses as to what the "D" in "Big D Construction" means) and seven highly vocal, aggressive studs that clearly enjoy themselves with piggish glee. Another strong, meat-and-potatoes winner from Jasun Mark and TitanMen.
Dallas Steele and Bruce Beckham meet to review some blueprints or somesuch but Steele is understandably distracted by the sight of brawny, beautiful Beckham in tight dress pants and shirt (although Steele, a walking advertisement for aging spectacularly, is also delectable in similar attire). They make out passionately and proceed to a fantastically vocal, aggressive and passionate flip-fuck.
In the next vignette, Matthew Bosch — trim and handsome, lightly furry and well-hung — and Eric Nero have little interest in their own construction lingo. Nero whips out his long, beautiful python and Bosch goes right to town on it with plenty of spit and enthusiasm; Nero, when he returns the favor, is equally slavish. He throws an intense fuck into Bosch, who moans and groans throughout.
Burly Dirk Caber, ruggedly handsome as ever with his graying beard, wry smile and muscle butt bursting out of tight jeans, is an irresistible distraction to the tall, dark and model-handsome Adam Ramzi. Caber's deep-throating skills and moans of genuine pleasure when Ramzi chews on his nipples are a real pleasure to watch. They flip-fuck with spirited intensity as Caber teases and leads Ramzi to orgasm.
The final vignette pairs lean, bald Nero with older muscle-daddy Max Sargent. They're quickly eyeing each other up and down. It's clear this is a match-up that really pushes Nero's buttons (watch as his eyes roll back into his head when he's riding Sargent's cock). He deep-throats Sargent's thick boner and sprays out a splattery cumshot.
The four scenes are neatly tied together with a smattering of corny dialogue that plays like an in-joke. Mark's fluid camerawork provides visual variety and he pays welcome attention, as usual, to such grace notes as nipple play and the particular pleasures of making out with a scruffy or bearded guy.
Synopsis:
A cocky construction company owner.... an architect with an ass that just wont quit... a plumber brandishing a steel rod... a cement stud who drives a hard bargain. Those are just a few of the players who team up to design a blue collar Blueprint.