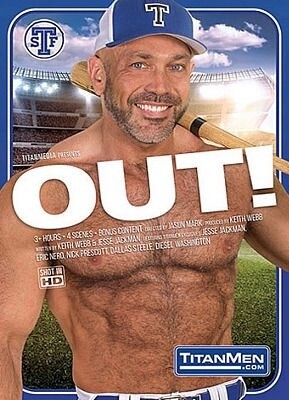 Coach Jesse Jackman comes out of the closet and causes a stir among players and teammates in this luxuriously paced sexpic from TitanMen house director Jasun Mark. Four scenes run three hours and change but it doesn't feel overlong. If one is forced to choose, Jackman's flip-fuck with Dallas Steele is perhaps the highlight among four terrific vignettes. The venerable studio has another winner.
Titan clearly spent some time and effort to bring to life the world of the script, co-written by Jackman, and it shows. Each of the performers, despite having been seen many times before, is given a splashy opportunity to show off a full range of talents. It doesn't feel overly familiar.
Dallas Steele is a rugged and gloriously handsome older stud with a jacked body and prize cock. He and Jackman share a sizzling, sensual chemistry. They both demonstrate why they're among the industry's top performers in one of the best duos of the year. Jackman gives himself another flip-fuck with the furry, affable Nick Prescott (who wears a jock strap very well, and incorporates it into their sexplay for a brief bit of kink).
Salt-and-pepper muscle hunk Dirk Caber ruts with smooth young pup Luke Adams for another appealingly erotic encounter. Adams moans, groans and bounces on Caber's boner like he's never felt anything quite so good and Caber rises (no pun intended) to the occasion like a champ.
Elsewhere, Diesel Washington massages Eric Nero and leads him into a scorching face-fuck, rife with filthy imprecations, and then throws a fierce plow into his very willing (and equally hung) partner. Another erotic home run.
Synopsis:
The word is Out! Rumor has it that a baseball legend likes to play with bats just as much as he loves playing with balls. Will he strike out or hit a homerun? TitanMen exclusives Jesse Jackman, Eric Nero, Nick Prescott, Dallas Steele and Diesel Washington sweat through the hottest and hardest spring training season you've ever seen! Pro baseball coach A.J. Benson (Jesse Jackman) decides to come out of the closet—but not before getting to home base with pitching coach Nick Prescott. Eric Nero learns that coach isn't the only homo on the team—trainer Diesel Washington escalates a massage treatment, the two swallowing each other's monsters before Eric offers his ass. Minor league jock Luke Adams and coach Dirk Caber use the occasion to make surprise announcements—feasting on each other's boners before Dirk goes long into the bottom's ass. Reporter Dallas Steele makes a confession to Jesse Jackman—the two soon celebrating their 20-year crush with a muscle-bursting flip fuck.
close
E-mail this to a friend
Out!
Email sent. If you wish to send to another person, click here.