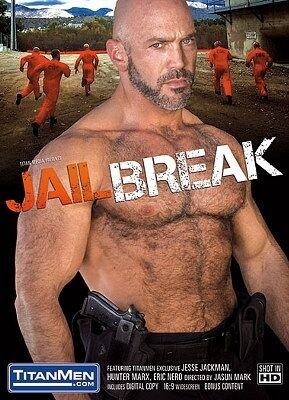 In the first of three scenes, prisoner Drake Jayden submits to his captor Hunter Marx and although the latter, like most TitanMen, is gruff and glowering, it's Jaden who powers their scene, particularly when he's happily riding his captor's cock. It's a solid start to the action.
The actual jailbreak and shots of the prisoners escaping, as well as a subsequent chase scene, includes some impressive camerawork, editing and location shooting. Kudos to Mark and his technical team for pulling it together.
Popular skin star Tommy Defendi made his hookup with lean, scruffily sexy Brendan Patrick one of his final scenes before (apparently) departing the industry. If so, he leaves on a high note. Both men are passionate and engaged and Patrick eagerly sucks down Defendi's famously thick, snaking anaconda of a cock.
Titan's A-lister Jesse Jackman is all hairy muscle and cuts an imposing figure as he chases down lean, lanky and impressively hung Eric Nero, whose so-called punishment for trying to escape is to suck off and get aggressively butt-slammed by his captor. Jackman, as ever, is an intense, magnetic performer.
Synopsis:
It's a battle of wills between sweaty inmates and the beefy long arm of the law during TitanMen's heated jailbreak, where prisoners and officers alike are in hot pursuit.