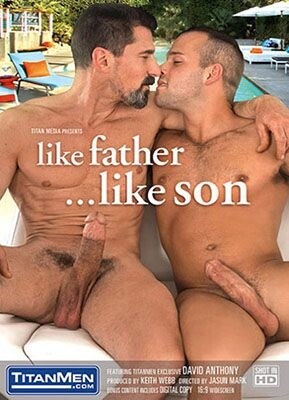 Two handsome, sexually permissive dads and their affable, horny sons play a game of sexual roundelay. All four gents acquit themselves admirably but the sexplay between TitanMen exclusive David Anthony and Luke Adams, whose grin never leaves his face, is a highlight.
Adams (cheerful and well-built with a plush ass) and Caleb King (tall, thin and rangy with a dominant vibe) trade aggressive blowjobs and make a bet to seduce each other's father. It's not a spoiler to reveal they won't have to work very hard to make it happen.
Both young men happen upon their dads hooking up in the kitchen. (Standout dialogue: "Dude. Your dad is totally eating my dad's ass. What do we do?" "Watch and learn.") They watch and jack themselves to climax as the older men kiss and trade blowjobs. Williams, still burly and bemused after a two-decade career in adult, bends over a couch to allow David Anthony, long and lean with a salt-and-pepper beard, low-hanging balls and oversized cock, to give him a good, therapeutic screw.
Later, Williams is seduced in under a minute by King. Director Jasun Mark highlights more aggressive, deep-throat, spit-soaked oral action here, as he does throughout the film. Williams is more than a match for the younger gent's aggressive, propulsive sexual energy, which gives their flip-fuck equal heat.
In the final scene, Anthony is washing off in an outdoor shower when Adams appears and gets right to work without much convincing. He happily sucks down Anthony's impressive meat and the pleased grin never leaves his face when they move indoors to fuck. Anthony confidently slides his oversized boner into Adam's bubble butt; the younger stud happily gulps and moans the entire time.
Synopsis:
Big dicks run in the family. That's why two best buds make a dare to fuck each other's dad. TitanMen's legendary superstar David Anthony returns to take control of the situation in Like Father ...Like Son, a generation gap scorcher where boundaries are quickly crossed.