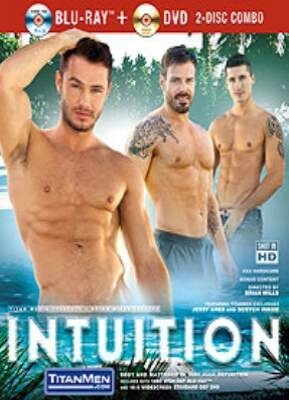 Putting Jessy Ares and Jay Roberts together is almost too much for my horny little heart to handle. When you squeeze that much "handsome, "hot" and "hung" into one scene, watch out. The two put on a great show by the pool, where they towel each other off before getting each other off. Titan understands the power of throbbing cock shots, frequently cutting to them during the oral exchange as the sucker's meat pulses on its own. It shows genuine excitement and connection, making the scenes even hotter. It's also exciting to hear Roberts moan as he gets fucked — and to see him squeeze and gyrate his ass as it intensifies.

We're soon privy to another twitching beauty — the uncut sausage of muscular Marten Scholz, on his knees as he devours the dicks of dark and smooth Enzo Rimenez (another of those "handsome as hell" guys) and blond Casey Daniels. All take turns on their knees before Daniels gets between the hung tops, who stuff both of his holes. Closing the show is a magnetic duo: Tatted Scotch Inkom gets a special rubdown from dark and chiseled Casey Daniels, whose jet-black hair and never-ending abs (even more discernable in high def!) are impossible to look away from (go on, we dare you!). If you aren't blinded by the top's beauty, an amazing fuck follows.
Synopsis:
It's that initial glance that piques your interest. It's the impulse that confirms an undeniable attraction. It's that bolt of excitement that courses through your body. It's Intuition, and Titan demands that you follow it as exclusives Jessy Ares and Scotch Inkom lead a handsome crop of studs that let their guard down and follow their instincts. Go ahead, move in closer... After a dip in the pool, the bulging swimsuits of Jessy Ares and Jay Roberts are released for some deep-throat fun -- followed by a passionate fuck that leaves Jay gasping for air. In front of a lush backdrop, hung suck buddies Enzo Rimenez, Marten Scholz and Casey Daniels take turns on each other before blond Casey bends over. After stretching out massive stud Scotch Inkom, dark and chiseled Danny King initiates a sweaty workout that takes care of their stiff love muscles.