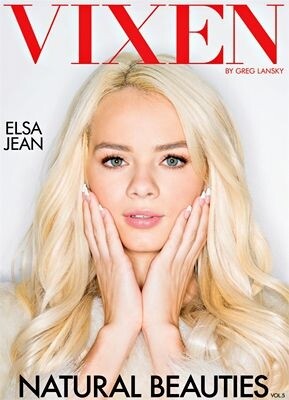 This volume of "Natural Beauties" could have easily been labeled "The Blonde Edition," seeing as how each of the four young vixens is fair-haired, with the quartet being divided between Manuel Ferrara and Jean Valjean, with scorching results from all of the fresh lil' sluts.
Both Naomi Woods and Kendall Kayden separately hook up with Ferrara, with the latter splatter-king doing a good job of bangin' 'em proper. Woods plays an up-and-coming actress who wants her agent, Ferrara, to get her better parts, so she parts her own lips (both sets!) to heartily influence the fella. Naomi is a wonderfully compliant submissive, and it's great watching Manny face-fuck her. My only complaint is that there's no doggie in her sequence (for shame!) But(t) there is in Kendall's following scene, as she portrays a rich bitch who cozies up with a Euro stud, once again the Manuel monster, in her condo complex. I just adore Kendall's not-so-small/not-so-big boobies, which are awesome to view in reverse-cowgirl, while I'd revel in slamming her luscious little booty doggie style — as does Ferrara for a good long time — with utmost gusto. And check out the copious spurts of cum with which he paints Naomi and Kendall's mugs.
Actually, the other Frenchman in the movie, Jean Valjean, I think gets to nail the two hottest bitches in the house (lucky prick!). Elsa Jean (the DVD's cover girl for a reason) is one spinner of a pixie who's always a pleasure to view, here playing another wealthy brat, but one who seduces her parents' private chef, Valjean. Now, while Jean typically covers the ladies' butt cheeks with his grabby paws, here he's much more subdued, letting the ever-horny Elsa frequently do the gyrating, be it cowgirl or doggie style, and it's magnificent to watch; Elsa is just such a little scorcher of a doll! And the best thing about Khloe Kapri — in her anecdote, fucking her sister's boyfriend, again Valjean — is her intense and upbeat willingness to please, with all of her positions, especially doggie, being rather amazing.
You definitely won't need a fifth of scotch to enjoy this fab fifth edition of "Natural Beauties" (though that type of liquid refreshment never does hurt), with high points going to the ever-fantastic Elsa Jean and the truly pleasing (and eager to please!) Khloe Kapri.
Synopsis:
From the critically acclaimed VIXEN.com comes Natural Beauties Vol. 5. Filmed and curated by Director Greg Lansky, this next entry of the celebrated series continues its celebration of young and natural beauty. Cover girl Elsa Jean plays a naughty co-ed making the best of her suspension by seducing her family's chef. Also starring Kendall Kayden, Khloe Kapri, and Naomi Woods in unforgettable performances of their own. All this presented in the high-end production value, breathtaking locations, and captivating story lines VIXEN.com is known for, Natural Beauties Vol. 5. will leave you beyond satisfied.