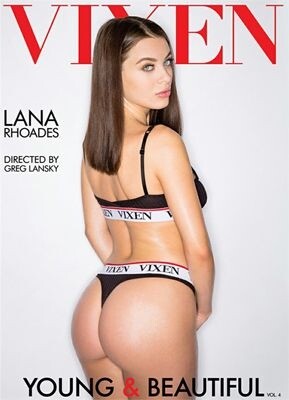 Yep, it's yet another outstanding in-and-outing from director Greg Lansky and Vixen.com, with exposed American and (mostly) European penises plugging the honey holes of four fetching, randy Euro and (mostly) American tarts.
We start with the gorgeous Lana Rhoades (20, of scrumptious Czech/Slovenian roots, though raised in Illinois, and on the DVD boxcover for good reason!); she plays a personal assistant to some popular French actor — in the form of Jean Val Jean — with Rhoades getting down and dirty with her boss after the schmoe catches her skinnydipping in his pool. Jean Val Jean joins her for a brief water interlewd, before Lana and he head back to the bedroom for some head. And more! She sucks on his uncut French hot dog, with lots of eye contact, which is always wonderful, followed by some deepthroating and saliva, which is also quite wonderful. He even facefucks her, with Lana producing even more spit. Whew! Cowgirl has the usual ass-grabbing from Jean, though he does let up for a few seconds, letting us (rightly!) enjoy those amazing Lana ass muffins. Doggie itself is quite amazing, when, that is, monsieur's paws aren't covering those posterior works of (t)art. And I love the way her big tits hang down during doggie. We get an even better view of Lana's beautiful bod during the mish posish. After reverse-cowgirl, which similarly showcases Rhoades' swell bod (tits, stomach, thighs, pussy), Val Jean pops inside o' her, with the fine bitch mopping up some of it with her palm and greedily devouring it. Love this whore!
Playing a bored college student, Euro hottie Natalia Starr (24 and a direct and delish import from Poland) steamily takes on her private tutor, Xander Corvus, to get her grades up, but she winds up getting his dick up her cunt … and down her gullet. A good blowjob artiste, she dutifully sucks Xander in the kitchen, with the 2017 XBIZ Male Performer of the Year promptly returning the oral favor. Love that sexy accent of Natalia's, too! Magically moving to the bedroom … we have more gnarly deepthroating and some fine face-fucking. I love the way Natalia's all-natural boobs (like Lana's earlier!) enticingly hang down while she's sucking. Cowgirl rocks, with Xander not getting his paws in the way, thus allowing Starr's star buttcheeks to wiggle and wobble a bit. Reverse-cowgirl is next, allowing us to really check out Natalia's amazing (and bouncing!) headlights. Doggie, of course, is a highlight, with Starr's tight little ass arched way, way up, allowing maximum penetration. There's some amazing eye contact with missionary, with Xander coming a bit inside and a bit outside her cunt, offering a perfectly credible creampie. Starr's a keeper, alright!
Next, Blair Williams (23, from Loma Linda, Calif.) works for a big-shit law firm, ultimately doing the nasty with one of their big-spending clients, played by the ubiquitous Manuel Ferrara. Almost a foot taller than Manuel with her heels on (and Manuel's high heels off), Blair's a sizzling Amazon type for whom you'd kill to get down her panties, which is just what lucky Manny does. After some juicy cunt-eating, Ferrara (and his trouser ferret) gets a well-focused BJ, with some horny deepthroat moments, including plenty of saliva, though Blair at times does use too much hand on gland. I love her sweaty ass and thighs as she's bent over and blowing Manuel (when they're good and naked in the bedroom). She rides him well cowgirl style, with Manuel not grab-assing too much, so as to allow us to fully imbibe of the bitch's superb body. In-between changing positions, Blair always offers more deepthroating. Good girl! And check out that meaty ass during doggy style. After some probing mish, Manuel moves to standing doggie, really pounding the fine slut, before depositing some French custard onto her lips, chin, and tongue. Some truly Blair-ing boffin', indeed!
And lastly, in what seems an ongoing theme here (in that it's similar to tails #1 and #3), the voluptuous, busty, all-around irresistible Karlee Grey (23, from Boston, Mass … emphasis on "ass") has the hots for her uptight, anal Italian boss, played by Christian Clay, with Grey getting Clay way into her in-tray. And does Karlee have the best tits and ass or what? She gives a great, slow, dreamy, sloppy blowjob to the hairless bastard, before she sits on his blood-enriched prick reverse-cowgirl, giving us a great view of it all: tits, thighs, and cunt (the latter honey hole quite hairy, too!). After more mouth-massaging of Clay's cock, Karlee returns to reverse-cowgirl, this time shot from behind so that it really highlights her jiggly butt cakes, as she works and grinds that cunt on Clay's cudgel; which is followed by pounding doggie with more amazing shots of Karlee's booty (as her eyes sluttily roll into the back of her skull); then cowgirl (with equal attention on that stupend-ass ass); more deepthroating; some cunt and anus worship; missionary (with some terrif jackhammering); and then it's pop-ski on the tongue-ski, with Karlee swallowing every nasty drop o' that Guido ball bleach.
Fantastically shot — crystal clear and in-your-face — with a foursome of absolutely drop-dead sexy babes who love their work as on-screen whores, "Young & Beautiful 4" definitely hits the spot!
Synopsis:
From the internationally renowned VIXEN.com comes Young & Beautiful Vol. 4 - the highly anticipated next installment of the celebrated series. Artfully filmed by Greg Lansky, nowhere else will you find a more tantalizing line-up of natural beauty. Featuring cover-girl Lana Rhoades as an eager Hollywood personal assistant giving into her desires when caught skinny dipping in her boss? pool. Also starring Karlee Grey, Blair Williams, and Natalia Starr in superb performances of their own. All wrapped in the high-end production value, breathtaking locations, and captivating stories you've come to expect with VIXEN.com, Young & Beautiful Vol. 4 is a must for connoisseurs and new fans alike!