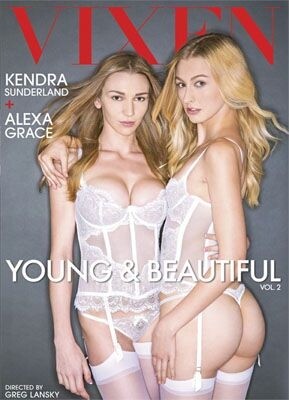 The title here is definitely apt: These lassies are youthful and gorgeous. And what I'm here to tell you is that these blooming foxes also suck and fuck with absolute gusto in one blisteringly horny porn portmanteau.
21-year-old buxom babe Kendra Sunderland gives her boyfriend, Jean Val Jean, a gift in the form of her gal pal, 22-year-old spinner Alexa Grace, leading to a sizzling ménage a trois. Highlights of this torrid threesome include the two fine floozies deeply sucking on Jean's joint; Alexa licking Kendra's butthole as Jean-boy does Sunderland doggie style; and not only watching Sunderland ever so slowly ride Val Jean reverse cowgirl, but just ogling her incredible, big, all-natural, pierced boobs, which I'm amazed that Val Jean doesn't once bother to suck.
Another 21-year-old sweetie pie, Sydney Cole (love the name!), gets it on with her on-screen stepbrother, Xander Corvus, and takes a few pictures of the nuclear action to get back at her cheating boyfriend. Cole is now one of my favorite porn chicks. Why? She's just so cute, pretty, sexy, and all around juicy. I wanna marry this bitch! Seriously. Her precious face and succulent ass are enough to make a dead man come. Understandably, Corvus (who's not yet a zombie) absolutely can't hold back from internally creaming the trollop. By the way, don't miss Syd bouncing on his boner during cowgirl. Frisky little thing! Yeow!
And 25-year-old Venezuelan Veronica Rodriguez and 24-year-old California vixen Mia Malkova magnificently round off this potent porn anthology. Vera plays an exchange student who gets it on with the household's gent, Christian Clay, with the bronze Rodriguez being a vision to behold in all positions, especially (yet again) cowgirl and, also, reverse cowgirl. This chica can ride!
And we've seen Mia Malkova before in many a XXX title, but (no surprise) we can't get enough of her! Her particular story is a bit confusing, i.e., she's renting out one of her apartment rooms to make extra money, but we're not sure is she's also hustling herself out to the tenant studs or just fucking 'em 'cause she's such a raging slut. Whatever the case, she sucks and fucks in a concentrated, purely trampish manner that'll quickly get you off, particularly in the slow, deep manner that she sucks Charles Dera's dork, and especially in cowgirl and doggie positions, the latter brilliantly zeroing in on Mia's marvelously ample and succulent butt cheeks.
Simply put, "Young & Beautiful, Vol. 2" is topnotch whacking material. Kudos to director Greg Lansky — and, natch, his small harem of tasty, fresh, hotter-than-hell whores. These twats rock!
Synopsis:
VIXEN.com and multiple award-winning director Greg Lansky are proud to present Young & Beautiful Vol. 2. This series is a celebration of the most gorgeous and natural models in the biz! Cover-girls Kendra Sunderland and Alexa Grace sizzle in their scene, as they share Kendra's boyfriend. Also starring Veronica Rodriguez, Sydney Cole, and Mia Malkova in sexy scenes of their own. All shot with the high-quality production value, steamy story lines, and passionate performances that VIXEN.com is known for. Don't miss out on Young & Beautiful Vol. 2!