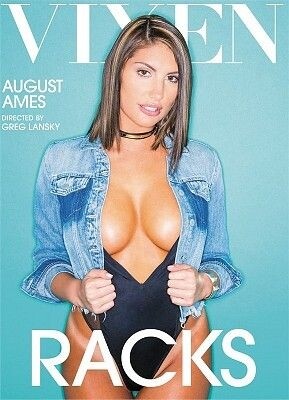 Vixen.com offers a new series, focusing on babes with memorable mams, with director Greg Lansky presenting a quartet of vignettes in his typically X-cellently shot manner, allowing you to really soak up the sex, with all beautiful-busted but not overly stacked ladies putting in fine, filthy performances.
And there's a reason why Lansky both starts his show with August Ames, as well as puts her on the DVD box cover: The bitch has a pair of the best boobs in the biz! — she's also basically gorgeous. And totally into her interracial porking! In her story, Ames is bored while vacationing with her uptight gal pal. Consequently, and much to the chagrin of said girlfriend, August takes the black boner attached to Jason Brown up to their bedroom where she boisterously balls the lucky bastard. And witness the horny way in which Ames attempts to fit that huge dong into her mouth, sluttily gagging on it. Yet while all positions are great here, I was a tad disappointed that doggy (damn!) was missing.
Next up is my favorite gal of the batch, Lily Love, whose facial features walk a provocative line between average-looking and quite pretty (depends on the angle at which she's shot), while her body is oh so juicy (what a great big ass!), and she's obviously in some kind of heaven as she gags on the prick of French pretty boy Jean Valjean. Lily is not only great bent over and taking it hard up her velvet vadge, but a great amount of time (thankfully!) is spent on the cowgirl pozish, with Lily really getting a superb groove on, luscious ass cheeks flowing all over the place. And the glam videography of Love in a swimming pool, and getting out of such, is as superb as anything shot in mainstream.
In the final two stories, Nina North is tired of her sister taunting her with boyfriend Mick Blue, so she gets revenge (in a familiar Lansky storyline) by fucking the bastard while bitchy sis is gone, with some heated results; and, as Crystal Rae is totally fed up with her brother always being in the way when she's trying to get up close and personal (and perverted!) with his buddy, Jean Valjean, her moment arrives when little brother is passed out on a floating mattress from too much booze intake, giving her the opportunity to suck Jean's prick poolside, before taking the cock croissant inside to show him a good time. Rae, like Ames, is a classic beauty, all the more scrumptious in her whorish compliance; and, like Lily Love, she sexily obeys Valjean's instructions to take his big dick as deep down her throat as possible. Rae is truly amazing in all positions, with fine fanny highlighted (of course!) in doggy, while those great boobs are spotlighted (ditto!) in reverse cowgirl.
"Racks" is yet another winner from director Lansky, being not only tit-ilating via the eye-popping all-natural breasts found throughout, but also care of four pairs of fine female fannies, four pretty faces and four voracious vixen appetites. X-cellent stuff!
Synopsis:
Acclaimed studio VIXEN.com and award winning director Greg Lansky are proud to present the first installment of Racks, a celebration of naturally busty models and high-quality production! Featuring cover girl and Vixen Angel, August Ames in an intense and passionate creampie. Also with the luscious Lily Love, Nina North and Cyrstal Rae and their big natural racks! Vixen.com is about quality and all our movies feature real cinematography, exceptionally beautiful women and hot story lines that will truly excite you.