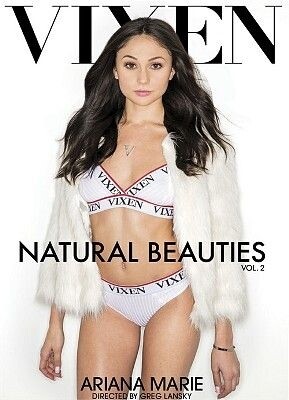 Yes, the big highlight in this Greg Lansky porn anthology is delicious DVD boxcover model Ariana Maria. But the other girls, particularly Kristen Scott, perform with eye-popping, cock-throbbing passion, lending the movie exceptional energy from beginning to end.
And the title most aptly describes our first/key starlet, as Ariana Marie is a true "natural beauty" — a nasty one, too! In her vignette, she can't afford a rent increase, so she "works it out" by duly sucking/fucking her landlord — the ever-present/ever-bald Cristian Clay — with Ariana doing some amazing stuff here. Not only does she magnificently choke on Clay's veiny cudgel, but she's incredible in each and every position, her perfect body marvelously captured by Lansky's outstanding videography and lighting. Love how she gapes, too! Some fine ATMs, as(s) well! This 23-year-old Texan with tasty German-Irish-Puerto Rican-Belgian roots, is a delightful damsel whom, like a few other choice dames out there in Smutland, I definitely wanna see more of. Yeowza!
21-year-old Kristen Scott is another raunch revelation, here looking as scrumptious as ever, with her thin (but, nonetheless, meaty in all of the right places) body really delivering a topnotch sperm-formance. In her tale, Kristen swiftly services her parent's gardener (the agreeable Johnny Sins) while her on-screen dad is gone for a brief time. It's a fantastically furious feast of fiery fornication, with a highlight being Kristen getting literally hammered by her stud while he's standing — hoisting her body up, her legs tightly wrapped around his hips — and slam-slam-slamming away with salami.
Rebel Lynn, 20, is in an almost identical scenario to Kristen's story (in what looks like the same bedroom, even!), getting it on with her dad's physical trainer (again, likeable swordsman Johnny Sins), with Lynn showing off her deepthroat talents, getting her boy's dick positively wrapped in saliva, while she's extremely arousing to watch in each and every position, really fucking her lover like she's in the middle of a boink marathon.
Also displaying head-turning/-bursting excitement is Pepper XO, playing a fetching nanny who gets it on with her very generous, very hairless boss, played by (who else?) Cristian Clay, with Euro stud Clay putting her (yes!) through some pretty heavy paces on the mattress, including some highly memorable/whackable doggy and cowgirl positions. Pepper rocks the people's cock!
"Natural Beauties, Vol 2." gloriously lives up to its title, particularly thanks to the joyous, joint-jerking porn charisma of Ariana Maria and Kristen Scott, along with director Lansky brilliantly capturing all four fabulously frenzied scenes with X-tra special skill and talent. A terrific job by all!
Synopsis:
VIXEN.com and award-winning director Greg Lansky are proud to present Natural Beauties 2. This series stars October 2016 VIXEN Angel and cover girl Ariana Marie. Also includes sexy scenes from young and beautiful models Kristen Scott, Pepper XO and Rebel Lynn. Natural Beauties 2 features four high-energy hardcore sex scenes, all shot in 4K with the high-quality production value that VIXEN.com is known for. Don't miss out on this latest release!