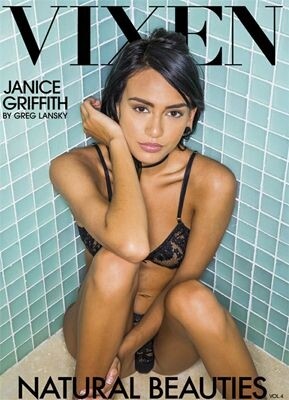 Brunettes, blondes and redheads — all of whom you'd seriously wanna bang — royally inhabit this new and lewd volume of "Natural Beauties."
Dark-haired babe-a-licious Janice Griffith (22, from New York, and of exotic East Indian roots) begins our happy vixen violations. Griffith's nerdy roommate, played (as he's done in numerous Lansky scenarios) by Xander Corvus is having trouble with girls so, in a more-than-familiar Lansky tale, Janice decides to act as a surrogate slut. Cowgirl is extremely animated, with Xander driving deep and, in turn, rewarded with a deeper-than-earlier blowjob. Griffith's exquisitely wiry body is well-displayed during reverse cowgirl, but doggie is better because, when Xander isn't literally grab-assin' Janice, you get to view her tiny but tasty tukus. Even missionary is amazing with this compact little firecracker, as Xander ultimately probes and pummels her in a pretzel position. By the way, you'll find this born-for-porn whore's incomprehensible utterances of passion a true indication of her sincere horniness.
Next, Illinois blonde Ashlee Mae catches her handyman, played by Charles Dera, Tom-peepin' while she's showering and, since she's gots the hots for his Semper Fi ass, lets his raging hard-on have its way with her cake and honey holes; with viewers being in store for some treats, including a throat-gagging and (better still!) one looooong face-fuck, which Ashlee could semenly do for hours. Mae's svelte body is primo for Dera's hard-hitting, invasive twat tactics, including some awesome butt-slappin' and some no-nonsense — and, once again, looooong! — doggie dunkin'.
As school's out and her parents are gone all week, 20-year-old Texan doll Jill Kassidy does her chillin' by gettin' a drillin' from college pal Seth Gamble. Our brown-haired harlot's blowjob is a bit traditional (no hose hacking), but she memorably rides Gamble gristle during cowgirl style with her healthy butt cheeks, while it's fun observing Jill's all-natural boobies jiggle during a sweaty session o' reverse cowgirl; though her submissive lil' self looks even prettier during doggie, which seems to improve her cocksucking, quickly shifting to the deepthroat category. Good girl!
And, finally, to celebrate her recent graduation, redheaded Spanish student Amarna Miller (26, from Madrid) is taking a cross-country U.S. backpacking trip, but it's ultimately becomes more of a crack-packing one, with monsieur Jean Valjean (the hunky landlord at her last stop) providing the pussy pluggin'. Precious moments reveal themselves during cowgirl and doggie (when 24601's paws aren't all over Amarna's ass), wherein we get a good view of her priceless posterior; same applies to spoon. Miss Miller has uniquely off-kilter fetching looks and one absolutely killer bod (even a beautiful pussy! ... and did I mention that amazing ass?), of which I truly hope to see more.
Complete with a quartet of highly cramworthy cuties and warm, crystal-clear videography, this classily shot group of four tales — and tails! — is abso-fucking-lutely worth checking out.
Synopsis:
Continuing its celebration of the most gorgeous and natural models in the world, VIXEN.com is proud to present Natural Beauties Vol. 4! Greg Lansky is back with another collection of his finest scenes. Gorgeous cover girl Janice Griffith lives out a long held fantasy with her roommate while also teaching him a lesson in confidence. Also starring Ashlee Mae, Jill Kassidy, and Amarna Miller in remarkable and passionate performances. Expect the world class production values and captivating storylines that VIXEN.com is known for, Natural Beauties Vol. 4 is not to be missed!