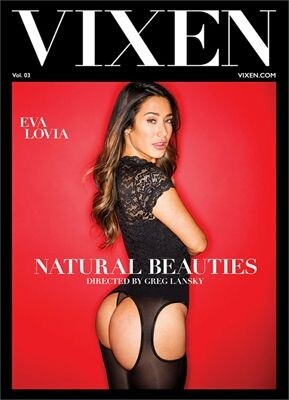 Fine, all-natural bitches in the house (whose filthy antics are marvelously illustrated in a quartet of gnarly anecdotes), care of prolific director Greg Lansky and Vixen.com.
First up, we're treated to the DVD's photogenic cover girl, namely, the amazing Eva Lovia and that fanny-tastic ass of hers, as she takes on croissant-wagger Jean Valjean. The lovely Eva plays a fashion designer who's got the hots for a way-vain celeb, Valjean, but his cunty sister is always cock-blocking poor Lovia before the latter can get splattered by Le Parisian's batter. So, the shrewd Eva gets rid o' sis by sending the wench to get coffee on the other side o' town, during which time Eva impressively sucks Jean joint to the bone, with a highlight definitely being doggie style — made all the more tasty via the ultra-horny stockings lusty Lovia is wearing, which beautifully augment her already perfect butt cheeks (note: just check out the DVD's cover and you'll know about which I drool) — with those bad boys really flying all over the place, when Valjean, that is, isn't getting his dabs all over 'em. Just wish Eva wore glasses (she looks great in 'em!) throughout the entire slime scene.
In episode two, Valjean returns (yes, Le Pen-is), this time getting down with phenomenally energetic pixie Kimmy Granger, who gives the bastard a ride for his money. Story-wise, Kimmy's on vacation with her cunt-rolling parents. And as she has the hots for a waiter — played by Valjean — Kimmy promptly ditches annoying mom and pop in order to hook up with the lucky shmoe in their hotel room. Granger is an excellent cock-smoker, while she really works her ass cheeks in both the doggie and cowgirl position, giving the usually grabby Valjean very little time (hoor-ray!) to paw at Granger's priceless pooper. Way to go, Kimmy!
Next, in a very familiar Lansky scenario, the ever-talented Xander Corvus plays a man with a lecherous eye (and trouser-weasel!) on his cute stepsister, played by the amazingly voluptuous Violet Starr, with highly beat-yer-meat-worthy results, indeed. Starr feels sorry for Xander after (yet another!) chick stands up the stepbro' (takes some imagination that a broad would do so, but hey, whadda I know?), with Violet ultimately giving mister-supremo a mercy suck/fuck which is, well, pretty friggin' awesome. Not only is her blowjob nothing to scoff at — it's deep, slow, luxurious, compliant — but she's a vision to behold in (yet again) both doggie and cowgirl positions, especially care o' those juicy butt cheeks on her, with Xander (unlike Valjean) not regularly getting in the way of such distinctive works of (t)art! I definitely wanna see more of Violet in the future!
Lastly, the always terrific Carter Cruise offers solace and succor (more like solid ass and suck-off!) to her way-anal, stressed-out boss, played by Johnny Sins, with Cruise giving one of the movie's all-out best blowjobs (so nasty and vulgar!), while she goes absolutely bananas over Sins' banana in all positions, with doggie and spoon positions (Cruise herself has such a magnificent brace o' butt cakes!) being totally rewind-/rewhack-worthy.
Pick the correct wenches (as in good looks and trampy attitudes) with the right boners to bang 'em, and you'll have no problem getting thoroughly molten results in a porn movie, with "Natural Beauties Vol. 3" being absolute positive proof of this vital smut maxim. Enjoy the (all-natural!) whores!
Synopsis:
VIXEN.com and Director Greg Lansky are proud to present Natural Beauties 3. This series is a celebration of the most gorgeous and natural models around! Starring cover girl Eva Lovia, with an incredible performance in an instant classic of a scene. Also includes sexy scenes from young and beautiful models Kimmy Granger, Carter Cruise, and Violet Starr. Natural Beauties 3 features high-energy hardcore sex scenes, all shot in 4K with the high-quality production value that VIXEN.com is known for. Enjoy!