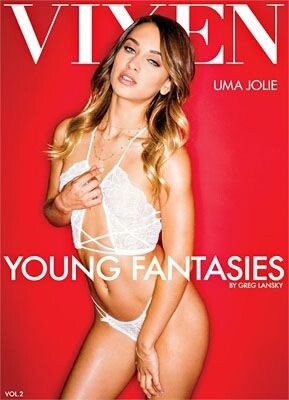 Vixen.com presents four scenes that aren't so much fantasies as beatworthy sequences, featuring some of the tastiest young, up-and-cumming female talent in the biz, especially DVD cover girl Uma Jolie.
Uma's marvelous whorishness is fully proven in her sizzling scene with big, bad Christian Clay, here playing a hip clothes designer whom Jolie bribes with out-of-this-world sex, so as to make her shine as the numero uno model in his just-round-the-corner fashion gala. Uma's definitely the kind of perfect bitch you'd love to dirty up with your spunk: from her twat, to ass cheeks, to face and (better still) hair (thus forcing her to jump into the shower and clean that shit off … ha!).
Anyhow, after giving Clay an amazing blowjob — with lotsa love, lust, throat, spit and eye contact — Jolie rocks during cowgirl, and similarly throughout doggie, taking the initiative during the latter by pushing her butt cheeks against Kojak's groin. Umphhh! I just adore her petite tits and juicy ass! Missionary itself is a treat as we get to view more of Uma's erotically evil eyes and strikingly gorgeous face. Indeed, her deeply slutty eyes wonderfully augment her luscious, all-natural beaut of a bod. I just hope Ms. Jolie never goes under the dastardly plastic surgeon's blade. Stay just as bangable as you already are.
Next, brunette Sofi Ryan has a crush on Xander Corvus, playing her best friend's older brother, who passionately crushes her tongue and twat with his blood-swollen meat puppet. She's a fine deepthroater, and I like how her big (but not too big), all-natch jugs sway when she's simply suckin' cock. Cowgirl is great, seeing as Sofi is so damn energetic. Catch how she dreamily moans and groans during a hard session of reverse-cowgirl. Doggie sweetly shows off Sof's superb booty; and, as her tits are big enough to fuck, Corvus more than happily does so. And I just can't help but dig her born-for-head-givin' lips and large liquid eyes.
We then encounter Cadey Mercury, a short-haired cutie with another killer bod, trying to rip off her college bud's brother, in the form of the returning Xander Corvus, who takes it out in trade by ballin' the hell outta the bad little bimbo. After Corvus spanks her fine ass cheeks to a fire-engine red, red-headed Cadey gives him a choice BJ that's guttural and nasty, including a saliva-drenched face-fuck. She bends over to the limit during doggie, which is fantastic, with Cade even giving us some pussy gapes. Cowgirl is terrific, too, seeing as it further highlights Mercury's scrumptious little butt cheeks. We get a little more memorable deepthroating before Corvus' blasts-off inside her "little pussy," as Cade charmingly calls it. "Fill me up," she groans to him, before he sloppily (yes!) cream pies this tantalizing little freak. I wanna marry this cunt!
Lastly, fair-skinned brunette spinner Evelyn Claire is paired up with French pud Jean Val Jean, with Claire playing a college tart who bangs her professor, Val Jean, to get a good letter of recommendation from him, proving what a wondrous whore she is. The fresh, innocent-looking Claire is a nice addition to Porn Central, by the way. After a potent face-fuck with plenty of always-welcome eye contact, Evelyn visibly enjoys riding Val Jean's cock during cowgirl (if only he'd get his grubby paws off her picture-perfect butt cheeks, just for even a few seconds!); while reverse-cowgirl highlights Evelyn's wiry, delectable spinner's body. The girl also possesses an amazingly perfect pussy: so puffy, smooth and downright juicy, perfection all the more visible during doggie. And check out how Val Jean's toxic spray just erupts all over Claire's pretty face and well-coifed hair. Yeah!
Director Greg Lansky has a winner of a sequel here, thanks to his keen eye for excellent new female starlets who suck 'n' fuck just as magnificently as they look.
Synopsis:
VIXEN.com and Director of the Year, Greg Lansky, are proud to present Young Fantasies Vol. 2. No other series has a better collection of young and natural talents! Cover girl Uma Jolie scorches the screen as a young and ambitious social media star willing to do whatever it takes to take her career to the next level. Also starring stunning newcomer Sofi Ryan, Evelyn Claire in her debut performance, and the naughty Cadey Mercury. All wrapped in the high-end production value, breathtaking settings, and captivating story lines VIXEN.com is known for, Young Fantasies Vol. 2 will leave you breathless!