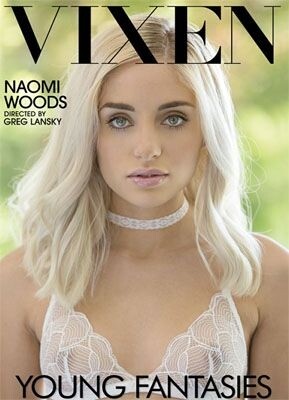 Here's a sizzling new series from director Greg Lansky and Vixen.com that's sure to move you — and the sperm right outta yer hose — via four fiery tales involving horny young ladies and throbbing gristle.
"Young Fantasies" starts out, shrewdly, with striking DVD cover girl Naomi Woods (20, from Florida), who, in a usual Greg Lansky storyline, is a way-sexy babe who gets down and dirty with her spoiled, cum-petitive stepbrother, in this case played by Seth Gamble, with the latter winning a contest between the two and the prize being Naomi's prized pussy. And mouth! After Naomi gives a brief blowjob in the shallow end of a swimming pool, the two go inside and get real sweaty. By the way, Naomi, not a very deep cocksucker, is in her element while fucking. All positions are fab, but Woods does a good job of workin' it cowgirl style, with Seth slammin' her similarly well, but also, cleverly, letting her frequently take over and earn her pay/spray. Seth boy ultimately creams on her pussy. It's (b)all in the family, alright. Love the way Naomi frequently groans, too.
Next, fucking-A gorgeous Jillian Janson (21, from Minneapolis, and cum-posed of a delicious mix of Irish, Norwegian, Scottish, Swedish and Welsh roots) screws her father's chauffeur, Christian Clay, while her parents are on vacation, with abso-fucking-lutely arousing results. After a lifted line from "The Big Lebowski" (fans will immediately spot it), and a short inter-lewd beside the pool (dig how they throw their clothes into the water), Jill and Christian move inside for the latter to give the former a deep, deep probing. Jillian is an incredible cocksucker/deepthroater, one of the best in the Valley. In fact, her rude sounds, oodles of saliva and voracious mouth must be seen to be believed! She's especially choice in the reverse cowgirl position, bouncing like mad on cock, and spoon, her awesome ass magnificently highlighted, once Clay gets his (somewhat understandably) grubby paws outta the way; same applies to doggie. And Jill, like Naomi, is another terrific groaner.
Playing a killer real estate agent, Kirsten Lee gets down with Flash Brown, after she sells the big-dicked fella a house. Kirsten looks great with the glasses. Or without 'em. Hell, I'd take this fine bitch any fucking way! Brown, quite obviously, would, too. It's fun seeing Kirsten try to desperately to inhale Brown's humongous black bone. Some superb doggie action follows, with Lansky's camera capturing the penetration up close and nasty. Cowgirl is equally awesome. This girl is an energetic thing; just as amazing during jackhammer; although some of Brown's overly extended, looooong bull-like groans are a bit much.
Lastly, Kimberly Moss is a big-lipped cutie who gets the sheets wet with her boyfriend's best buddy, played by Xander Corvus, per her boyfriend's suggestion. Not too many stats on Kimberly, either, who's quite the petite blonde treat. Dig her looks of semi-pain as she crams Corvus cock in her food cave. Check out, too, how she slowly swirls her hips and whorishly grinds down on his cock during reverse cowgirl. She also likes getting her sweet little butt cakes spanked. Note how this same dreamy young hussy is almost on the verge of tears during a thoroughly reamin' session o' missionary. She's a winner, alright.
Yep, "Young Fantasies" is yet another not-to-miss super-babe-getting-hammered-silly smorgasbord from director Lansky.
Synopsis:
VIXEN.com and award-winning director Greg Lansky proudly present Young Fantasies Vol. 1. This series brings together youth and natural beauty like no other! Covergirl Naomi Woods gets naughty with her step-brother in an incredibly sexy scene. Also starring Jillian Janson, Kimberly Moss, and Kirsten Lee in high energy sex scenes of their own. All shot with the high quality production value, steamy storylines, and passionate performances that VIXEN.com is known for. Don't miss out on Young Fantasies Vol. 1!