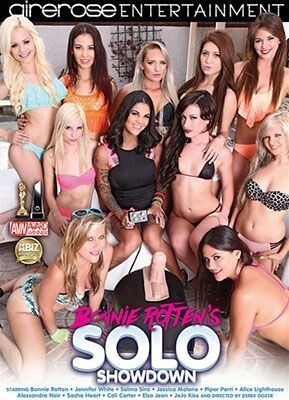 This is a novelty video — and a fun one. Bonnie Rotten has a new toy. It's the Sybian, the mechanized dildo with one big thick cock in front and a thin smaller one in back, designed for double pleasure.
She invites 10 of her porn starlet girlfriends over to sit on it. They draw numbers for the riding order and are judged on how much fun they have, how long they can stay on and how much they come.
Bonnie, a great host, is in charge of the speed controls. "The rotation, the vibration, and all the girls can do whatever they want to you." The fun is watching each girl's reactions, although they are all pretty much the same: lots of giggling and squealing and some of them need their mouths covered to muffle loud screams of pleasure.
There's a nice feeling of camaraderie and mutual support, like "we're all in this together so let's have fun." All but four of them have done it before. Jessica Malone, a Russian girl and a Sybian virgin, seems to have the best time of all, and is declared the winner by general consensus.
Synopsis:
Bonnie's invited some friends over to fuck her favorite toy! Featuring Bonnie Rotten as the hostess!